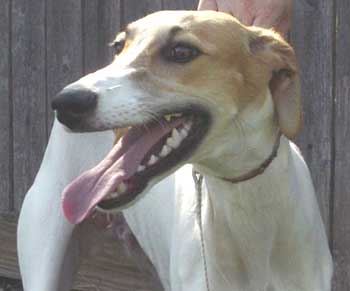 Toby is an approximately 6-month-old white and red puppy found as a stray by the Fort Worth Animal Control. Toby's right rear leg has been broken, for some time it appears, and there is a huge knot where the calcification has formed. There is severe atrophy of his right rear hip and upper leg. His leg is currently being evaluated and his medical condition assessed - initially it is obvious he suffers from anemia. Please check back here soon for further information on Toby.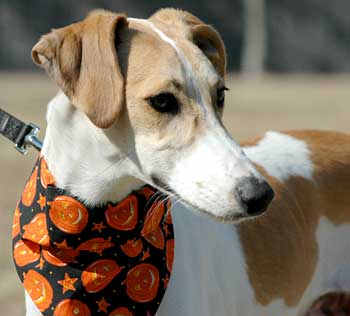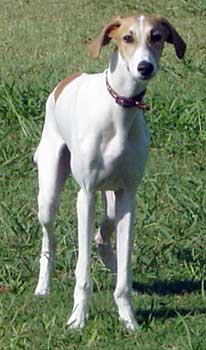 Update 8/11/05
Dr. Bob Radasch of the Dallas Veterinary Surgical Center completed his medical evaluation of Toby, who has a fracture to the distal 1/3 of the left tibia and fibia, with substantial formed callous (calcification).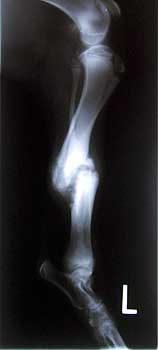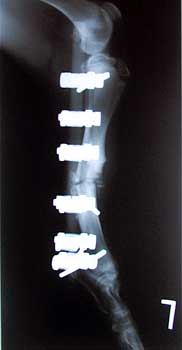 Before (left) and after (right) x-rays of Toby's leg.
Dr. Radasch performed surgery on Toby on August 2, where an oscillating saw was used to cut the bone. He then removed the excessive callous, reduced the fracture and stabilized it using a 1A medial 6-pin external fixator. Because of Dr. Radasch's decision to use an external fixator, the incision was only about 2" long.
The heavy bandage was taken off on August 9, and he now has a lighter bandage which covers the apparatus. Toby will have to be very quiet for the next six weeks. Daily cleaning and maintenance of the pin tracts on the external fixator is required. Which along with keeping him quiet, is a huge challenge for his foster mom!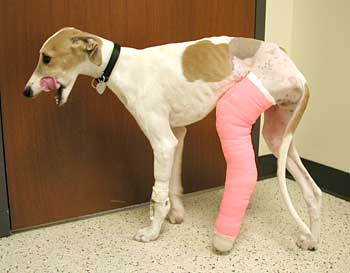 Update 10/1/05
Toby's external fixator was removed on September 13. A soft padded bandage was placed, but was removed in several days. The single most important component of Toby's healing is to insure that the tissues are not subjected to high strain that occurs with unregulated activity, so he MUST stay quiet again until October 15 - a real challenge for his foster mom! In the meantime, he will have his regular medical procedures completed – neuter, dental, etc.