Spiderman's Journey by his Forever Mom, Diane
I first looked at GALT's website in July and saw several dogs on the injured reserve list, among them Spiderman. He and several others were found injured and abandoned in Austin. That got to me, because I live in Austin.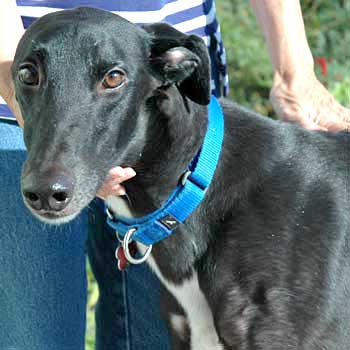 I read each monthly update on Spy, and anxiously awaited the next one. His foster mom sounded great, and provided heartwarming news of his slow but steady recovery. I thought about adopting him at least a thousand times during that six-month time period.
My story goes as follows. I got married last June, and have my house on the market with plans to move into John's house as soon as possible. I have two greys, Jack and Charlie. Andie is a heeler mix. John has a lab mix and a terrier mix.
Although I love all of our dogs, I have a special fondness for my grey Charlie. I've had him for the past year and a half, and took him to the vet in December for what I thought would be routine dental surgery. A tissue sample was sent out, and Charlie was diagnosed with advanced fibrosarcoma. I was a basket case for days. It was during that time I decided to adopt another grey. John agreed, and I immediately spoke of how Spiderman would be a good fit because of his special needs and his fear of men. John has a wonderful way with animals and has really helped Jack, my original grey, who used to be very withdrawn. Jack has come out of his shell and is much happier since John has been in his life. I felt he could bring the same love to Spiderman.
When I found out that it would be possible to adopt Spiderman, it really touched me, and it seemed like a dream come true. I couldn't believe it!
I filled out the paperwork, got approved, and we went up to visit Spiderman. He was so calm and very sweet. Even Charlie, my jealous hound, approved! When Spy recently had his teeth cleaned, Dr. Jeff Ellis diagnosed his having CUPS, chronic ulcerative paradental stomatitis, causing red inflamed gums. I know this will require life-long care, but I will work with my alternative medicine vet to address complementary therapies.
Well, it's been almost a week, and Spy is absolutely perfect! He is beginning to play with toys, and really enjoys the company of the other dogs. He is very affectionate, and has seamlessly adjusted to his new home life. We are so grateful to Carolyn, his foster mom, for providing such a loving, caring home environment. And many thanks to everyone that contributed to the Miss Mesa fund - you are doing something very special. John and I feel so lucky to have this dog in our lives. All of you have helped make this dream become a reality. And Spy has come full circle, back to Austin.
---
Spiderman's GALT Story
Spiderman is a handsome 3½-year-old black male, born in May, 2001; his registration number has been double tattooed so he cannot be traced to those responsible for his ending up in this condition. Spiderman was one of 5 male greyhounds found muzzled and abandoned in a backyard in Austin. They were all taken to a shelter in Austin, and there was a plea to take them before their kill date of July 5th, 2004. GALT took Spiderman, who was in the worst medical condition – HW positive and suffering from an old injury of a broken hock that required orthopedic surgery.
We will post updates as they develop. His tick tests are pending; he is seeing Dr. Scott Bertrand of the Dallas Veterinary Surgical Center on Wednesday, July 14 for an evaluation and plan for his treatment. Spiderman needs your help!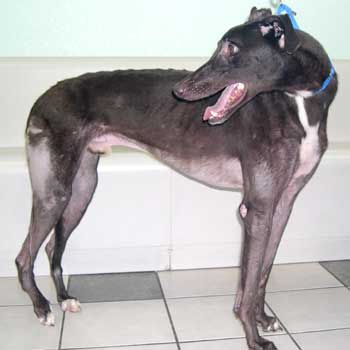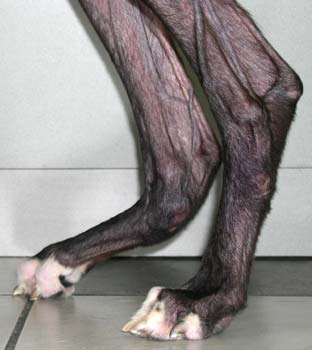 Spiderman was born in May, 2001; his registration number has been double tattooed so he cannot be traced to those responsible for his ending up in this condition. We will post updates as they develop. His tick tests are pending; he is seeing Dr. Scott Bertrand of the Dallas Veterinary Surgical Center on Wednesday, July 14 for an evaluation and plan for his treatment. Spiderman needs your help!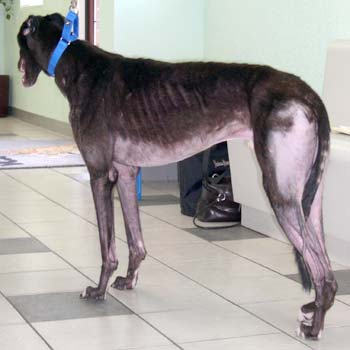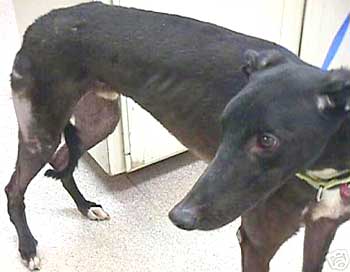 ---
Update 7/15/04
Spiderman's Protatek tick panel test has been received and he is positive for Rocky Mountain Spotted Fever and Babesia.
Spiderman's surgery is scheduled for Tuesday, July 20 and will be performed by Dr. Scott Bertrand of the Dallas Veterinary Surgical Center. The procedure is called an E-Tarsal Arthrodes Partial, which translates into fusing the area below his ankle, which will not impede the movement of his ankle, but will stabilize the area. A bone graft from his shoulder will be used along with bone plates and screws. Dr. Bertrand predicts excellent results with a recuperation period of at least 12-14 weeks. After that heals somewhat, he will have to begin heartworm treatments and treatment for Rocky Mountain Spotted Fever and Babesia. All of the usual vetting will have to wait for a while until he is healthy.
Spiderman is in a loving foster home where he is receiving excellent care. He is shy and loves the comfort and security of his large crate. The focus of his care at this time is providing him with nutritious good and ample food. Spiderman is receiving supplements and vitamins to boost his immune system.
Update 7/22/04
Spiderman's surgery was performed on Tuesday, July 20. Dr. Scott Bertrand says the partial tarsal arthrodesis went very, very well. A plate along with 12 screws was inserted along with artificial bone graft material. It is very important that Spiderman stays very quiet for the next 12 weeks. He will be leash-walked only and when inside will be confined to his x-pen when not under direct supervision. His foster mom and dad are monitoring him very carefully and closely, as his post-operative care is as important for a successful outcome as is the surgery itself. Spiderman is the only animal in their home, so it is a quiet and appropriate environment for him.
The pictures below show the results of his surgery. His bandage was changed prior to his going home and will be every two weeks until it is taken off in 8 weeks from now.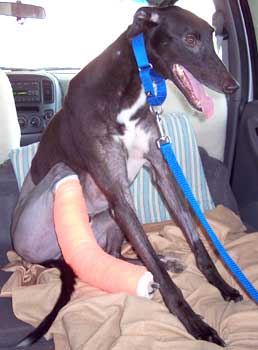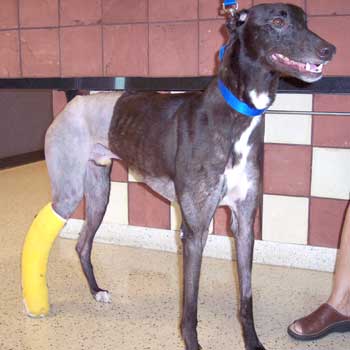 Spiderman sends his heartfelt thanks to those who are helping with his medical expenses.
Update 7/27/04
Spiderman is making progress a little at a time. Yesterday I noticed him wagging his tail for the first time. He has been following me around the house, and does not want me out of his sight. He likes a lot of petting. He distrusts men, but he no longer turns his head when Larry puts out his hand to pet him.

He will go back to the vet for a bandage change tomorrow, Wednesday, 7/28, which is a couple of days early, because he has been carrying the leg and not putting any weight on it. He was putting a little weight on it the first few days, but is completely off it now. The thinking is that he may have some swelling.

We started out using the x-pen, but he is feeling good enough now that he tries to get out of it. We put the regular crate back up for when we have to be away from the house, and he still lounges in the x-pen while we are there. He is a sweet loving boy - we just can't imagine anyone not caring for him and allowing his condition to deteriorate to this point.

Spiderman's Foster Mom
Update 8/11/04
Spiderman was in for his third cast and bandage change, and we have good news! There was an area that was discovered during the last visit that seemed to be developing an infection next to one of the screws; however, today, it appears to be much less inflamed and the healing is progressing! He still is not putting a lot of weight on it, but does seem to be maneuvering around better with the cast.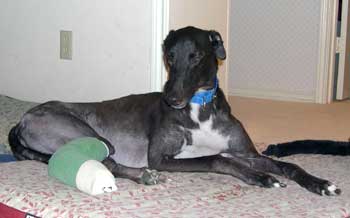 Spiderman's coat is looking much, much better and his hair, where it was shaved for his surgery, is beginning to grow back. He goes back on August 17 for another look-see and cast change. Please keep Spiderman in your prayers for a healthy recovery…he still has quite a ways to go.
Update 8/17/04
Spiderman went in today for his fourth bandage change. The previous bandage was clean and dry. A mild amount of dried dark discharge was present in the area around the pin, but it is improving. He will now go in every 2 weeks for the bandage change and will recheck x-rays in 4 weeks. There is NO exercise at all for another 8 weeks!
Update 9/1/04
Spiderman's bandage and cast changes are now at two-week intervals. Although the leg is improving, the area around the problem pin still has some granulation. A donut was placed over that area under the bandage, so hopefully that will help. At this time it is thought that the pin will have to be removed eventually, which will be another 6 weeks of confinement. At the next appointment x-rays will be taken so we will have a clearer indication of how the healing is going. Spiderman is finally gaining some weight, and his coat is finally coming in good. Dr. Bertrand and Dr. Ellis both agree to wait awhile longer before starting his heartworm treatment.
Update 9/17/04
When x-rays were taken for Spiderman's cast change on 9/15, Dr. Bertrand and his staff decided to take the problem pin out of Spiderman's ankle, which loses some of the stability it was giving that area. He will have to be very limited on activity. Severe dermatis is affecting his skin under the bandage, so he will be returning next week for another bandage change. Spiderman started his Heartworm treatment on September 16, so his confinement for this, as well as his ankle, is a must. He is tolerating the first treatment, and will go back in 30 days for the second phase of Heartworm treatment. Many, many thanks to all those who have kept him in their thoughts and prayers.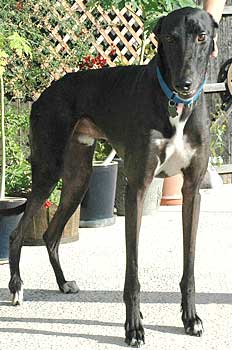 Update 10/8/04
Spiderman's cast and bandage were removed. He is not putting weight on his leg yet, and he is very gingerly carrying it around. Having his leg exposed will now allow the cast sores to heal quickly. Dr. Bertrand expects that the plate that was inserted will have to be removed sometime in the future. His second round of heartworm treatment is scheduled for October 20.