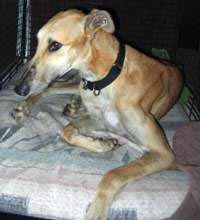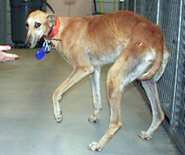 Sneaker, aka NST Sneak a Peek, is almost 2-year-old red fawn male born November 11, 2007. His sire is WW Apple Jax and his dam is NST Hazel. Sneaker was turned into the Ft. Worth Animal Control as a stray. Fortunately, he is negative to heartworms, but of course positive to many intestinal parasites. When he arrived, his skin and coat were laden with sores and thinning hair. He has had a high fever followed by coughing, so he is being treated for both. His tick panel testing is not finalized yet. He is being monitored by Dr. Jeff Ellis and Dr. Christy Soileau of VCA Preston Park Animal Hospital. Fortunately Sneaker is in a very caring foster home that is carefully watching over him.
Update 10/12/09
Sneaker's immune system is very, very compromised right now. He has been diagnosed with a fungal skin infection. Treatment starts today, and we hope he will be be able to tolerate the medicine.
Update 10/21/09
Sneaker has definitely taken two steps back with his fungal skin infection. Treatment was started, but because he lost his appetite, an alternative medicine plan has been implemented which will get him feeling and looking better.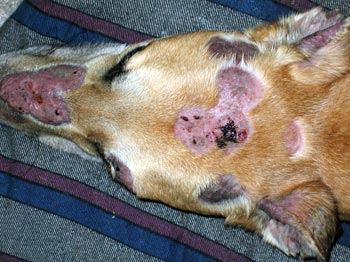 Update 11/2/09
Sneaker is beginning to respond to his meds, as well as his medicated baths. It is hopeful that hair will start to grow in the bald areas.