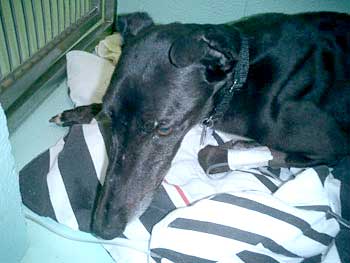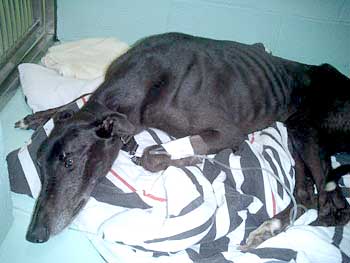 Skittles, aka Sandhill Skillet, is a 5½-year-old black male greyhound, born June 9, 2001. His sire is Grenade, making his grand-sire Molotov, and his dam is Starlight Kissy. Skittles was found as a stray on a farm north of Hillsboro on Thursday, October 26. According to Greyhound-Data.com, Skittles finished the last of his 259 races this past June 19, 2006, at Daytona Beach, Florida. His whereabouts since then to now are unknown, although the NGA owner of record said he had given Skillet to a man to use for rabbit hunting, who lives on the Oklahoma/Texas border, because he was an "old dawg." He arrived twenty-four pounds below his racing weight and severely malnourished, which as we all know can be deadly in itself.
He is currently under evaluation for possible Leptosporosis, but the results won't be in for five business days, which will be November 6. Prophylactic drugs have been started for this condition. Skittles spent two nights at Collin County Emergency Clinic, receiving supportive therapy and three units of plasma each night in an attempt to stabilize and improve his health. During the day he was with Preston Park Animal Hospital under the care of Dr. Jeff Ellis and Dr. Christy Soileau. He was transferred to the Diagnostic Clinic on Wednesday, November 1, to be evaluated by Dr. Susan O'Neal. Protatek results received show he is positive to Ehrlichia, Babesia, and Rocky Mountain Spotted Fever.
Please keep Skittles in your thoughts and prayers...his condition is very, very critical and Skittles, like all GALT's strays, deserves a chance at this next part of his life. He ran his heart out in his first 5 years of life, and his "retirement" truly sucks ? let?s just hope his heart can be filled with the love and care of a family for the second part. He deserves that at the very least, don't you think?
Update 11/05/06
Skittles has been under the care and housing of Dr. Susan O'Neal of the Diagnostic Clinic since November 1. He has been receiving intravenous fluids with antibiotics until today, when he was switched to oral medicines. He is being fed every 3-4 hours in an attempt to put weight on him ? he is down to 48.8 pounds. He is more alert, but still shaky and weak. Dr. O'Neal is cautiously optimistic for his recovery; the results of the Leptosporosis tests should be back tomorrow, Monday, November 6. She hopes he will be able to leave in the next few days, depending on his response to the oral meds.
Skittles' medical care costs are mounting each day, because GALT is committed to giving him the chance he so much deserves. Please help however you can - no donation is too small. Skittles is not an "old dawg"...as we all know, he could easily have another 6-8 years ahead of him. Please continue to keep Skittles in your prayers and thoughts.
Update 11/09/06
Skillet was discharged from the Animal Diagnostic Clinic yesterday, Tuesday, November 7, at noon, after being in their care for 7 days.
His Leptosporosis test results were finally received, and they are negative! After his discharge by Dr. O'Neal, Skittles was taken to Dr. Jeff Ellis at Preston Park Animal Hospital, for his evaluation; his weight was recorded at 52.7, so we will have a reference point to start now. Dr. Ellis was VERY pleased with Skittles' appearance, and wants him back in 5 days for a recheck. He will keep Skittles under close observation.
Skittles has settled into his foster home, with three other greys and a lab, and is doing very well. He is resting a lot, and "tottering around" like a champ, receiving five small meals a day, several medications, vitamins, and lots of love! You would never believe this boy has never been in a home before – he is the PERFECT dog! He woke his foster mom up early this morning "crying"...she took him outside, of course, but what he wanted was to eat!
Update 11/15/06
Skittles was seen by Dr. Soileau and Dr. Ellis on Wednesday, November 15. He has gained from 52.7 pounds to 62.5 pounds since 11/7, and they are very pleased with his progress. A CBC was drawn which shows steady improvement in all areas. He will remain on medications and vitamins and will be seen weekly by Preston Park Animal Hospital, barring any complications. Pictures will be taken in the next several days for all of you to see for yourselves how well he is doing!
Update 11/22/06
Skittles was seen by Dr. Ellis and Dr. Soileau, and has lost a little over a pound this past week. They are not overly concerned at this point, but an additional high-calorie supplement is being added. His bloodwork will be re-checked next week. It is obvious this boy is feeling better by the spark in his eye. He is still sleeping a lot, but when he is up, he wants to part of the action. Skittles has not had one accident in the house; he lets his foster family know when he wants to go out...pretty remarkable for a greyhound who has never been in a home before.
Thank you to so many of you who have sent donations to help with Skittles' medical expenses and recovery...you are his Angels – the ones who stepped up to help him in the most important race of his life...to his forever couch – he doesn't have to win, just finish this race. Stay tuned for more updates and pictures to come!
Update 12/06/06
Skittles latest blood work has been evaluated as being completely NORMAL!!! YAHOO! Bless his heart! His weight gain and a skin infection are now the issues. Here are his latest pics (below). Thank you to all of you who have come to Skittles aid! His is truly a success story!
Update 12/15/06
Skittles' skin infection is almost cleared up, and his weight is 71.5 pounds – an increase of almost 20 pounds from his 52.7 pounds at arrival! Medication for his tick diseases will continue for one more week, and then he will be retested for Ehrlichia, Babesia and Rocky Mountain Spotted Fever by January 15, 2007! Hopefully he will be able to continue his medical procedures at that time, and then on to his forever home! Again, for all of you who have participated in his care, the deepest of thanks.
Update 1/15/07
Skittles' tick-borne diseases were rechecked, and the titers show remarkable improvement! He has been cleared to finish his medical procedures and is scheduled with Dr. Christy Soileau on January 22 for his neuter and dental. Then he will be looking for his forever home!
From the bottom of GALT's heart, the most sincere and deepest thanks to all of you for your support for Skittles during these last 3 months, not only in generous donations, but in your thoughts and prayers.