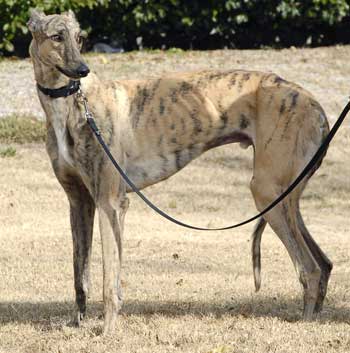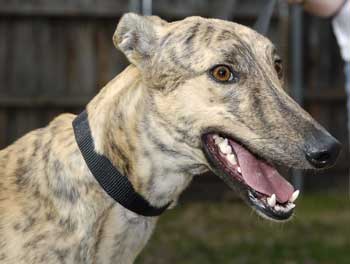 Ritz, aka Jaffa Peter, is a young 1½-year-old light brindle male, born on April 29, 2005. Ritz's sire is Be Discrete and his dam is San Tan Cake. Ritz came to GALT with a previously injured left rear knee; the knee was damaged during schooling nearly 6 months ago and has pretty much now welded together. Unfortunately on Sunday, December 17, Ritz accidentally suffered a very severe injury to his front left leg, due to an unknown cause. He was taken to an emergency clinic, where he was treated and released. The injury has now escalated to an infected necrotic wound. These are graphic pictures and not for the squeamish: Pic 1 Pic 2 Pic 3
Ritz is under the care of Dr. Jeff Ellis of VCA Preston Park Animal Hospital and also Dr. Bob Radasch of the Dallas Veterinary Surgical Center. It is crucial that this leg remain viable and functional, because of the injured rear left leg. Please put Ritz in your thoughts and prayers.
Update 1/15/07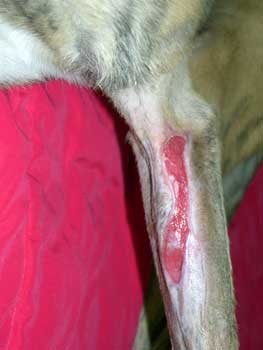 Three weeks have passed since Ritz' leg injury and the improvement is amazing. His wound is clean and a granulation bed is forming. Despite the discomfort of hydrotherapy treatments and bandaging, Ritz is a true hero, very brave and understanding. He is very calm and quiet as his wound is washed and bandaged - knowing that his patience will be paid for in treats.
He is always happy, tail wagging, looking for some loving and attention. He gets very excited when his foster mom arrives home, loves any new people, and playing with his toys.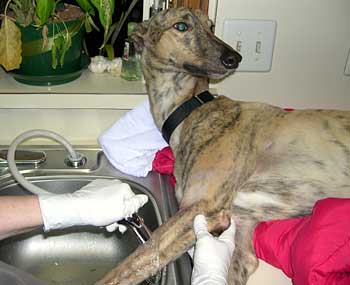 Ritz gets along fine with his three canine siblings. He is totally house trained, crate trained, and well-mannered. Due to a previous rear leg injury, obtained while in training, Ritz should not be allowed to run "wild" to preserve the integrity of the leg for future years. He may never be a jogging partner, but he knows how to enjoy the outdoors on lead.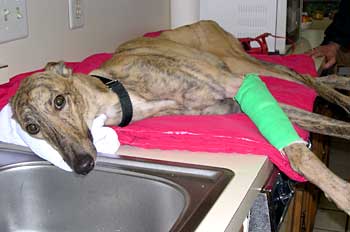 Typical of most greyhounds, Ritz enjoys long naps during the day, and sleeps quietly through the night, dreaming of his forever home.
Update 2/9/07
As you can see Ritz's leg is almost healed completely! It has been almost 8 weeks since his injury; you can see the result of diligent medical care. He is headed for his forever home very, very soon!