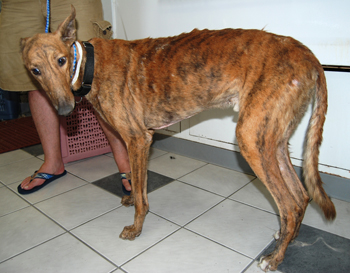 Red, aka IZA BBad, is a 5-year-old red brindle male born April 8, 2005. His sire is Dodgem By Design, and his dam is Kiowa Day Reyna. There are 2 races to his credit all in November 2008 at Gulf Greyhound Park in LaMarque, Texas. Red was one of 11 dogs taken into custody by Ft. Worth Animal Control Cruelty Investigators on August 11, 2010, from a residence in Ft. Worth. Red was covered with ticks, is very thin and is carrying a heavy burden of intestinal parasites. He has positive titers to Ehrlichia and Babesia. Treatment for these, as well as the intestinal parasites, has begun. Red is not cat tolerant, but gets along with small dogs.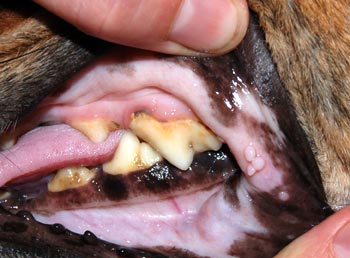 Update 8/30/10
Red's appetite seems to come and go, so getting his meds down him is a real challenge. He has gained a little bit of weight (4 pounds) since his last vet visit. He is anemic, most likely from his load of intestinal parasites, so treatment for those will begin again. Red, like so many of the seizure greys, has warts inside his mouth. These should go away with time, but they are being monitored very carefully.
Update 9/22/10
Red has been treated for internal intestinal parasites again, and hopefully he will test negative in the next several weeks.
Update 10/6/10
Red is continuing in his treatments for Ehrlichia, Babesia and internal parasites.
Update 11/7/10
Red's CBC and chemistry serum panel was rechecked. The parameters have not improved as Dr. Ellis and Dr. Soileau would like. Red has started another round of Doxycylcline, and he will receive the medication for the next 6 weeks. His recent fecal results were finally negative!
Update 2/21/11
Red's bloodwork shows improvement; however not enough to go forward with his neuter surgery. He is being prescribed another 30 days of liver support with antibiotics. It is very, very hopeful that this last round of treatment will be all that is needed for this sweet boy to be prepared to go to his forever home!
Update 4/12/11
Red has beeen cleared to proceed with his medical procedures, so he will be scheduled for his neuter, dental, et al soon!