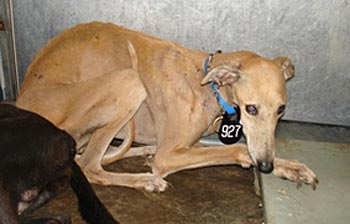 Nicole is one of 9 greyhounds GALT received from a Fort Worth Animal Control cruelty case. She is a tiny, 2-year-old (her age is estimated) fawn female who currently weighs in at 35 pounds. She is being treated for tick-borne diseases and a huge load of intestinal parasites. Her health is being closely monitored by Dr. Christy Soileau of VCA Preston Park Animal Hospital. Nicole is thin and has patchy skin from her tick infestation, but her body and spirit are recovering with the help of good food, a soft bed, and TLC from her foster parents. She is very timid around people and will need time to learn to trust. Nicole has not yet been tested with cats or small animals. Just like the other rescued dogs, she is positive to babesia as well as ehrlichia at extremely high titers.
UPDATE 7/26/10
Nicole was seen by Dr. Christy Soileau at Preston Park Animal Hospital last week for a check-up. She has scaling skin and large areas of alopecia as well as a growth on her stomach, which is being closely monitored for any changes. Nicole is being treated with Doxycycline for 4 more weeks for ehrlichia.
Nicole is often found in the same cage as Max; we figure they must be a comfort to one another. Nicole is extremely shy, but she is slowly coming out of her shell.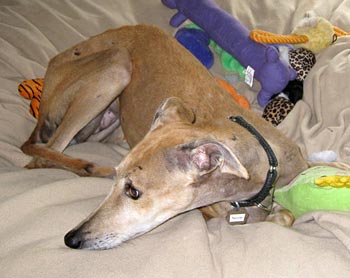 UPDATE 8/6/10
Nicole had two growths removed by Dr. Christy Soileau on Thursday, August 5 – one from her front right foot and another from her chest. Both are being sent off for biopsy, and results should be forthcoming next week.
Nicole has really taken to toys and loves to collect them and play the 'all of these are mine' game. She can also really get a good head tilt going when her foster mom makes funny noises. She's eating well and is such a good girl that she hasn't had a single accident in the house. She is less skittish around her foster parents and feels possessive enough about 'her' house to put up quite a bark and howl when anyone comes to the door. She's going to be quite the character when she is feeling good!
UPDATE 9/22/10
The growths removed by Dr. Soileau in August returned quickly along with two more that were infected. These were removed on September 6 by Dr. Soileau. Bioposy results show viral papillomas. Nicole was referred to Dr. Dennis Crow of Animal Dermatology Referral Clinic for her reoccurring warts on September 15th. She has started on daily oral medication of Alpha Interferon, which is taking several weeks to show any results.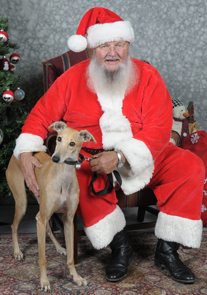 UPDATE 10/6/10
Nicole's warts are shrinking, and she is proceeding with her Imizol injections as scheduled.
UPDATE 11/7/10
Nicole is completing her heat cycle hopefully soon. Her bloodwork will be rechecked at that time.
UPDATE 11/22/10
Nicole's bloodwork shows she is PCR negative for all tick borne diseases, so she is clear to go forward with completing her medical regime really soon.