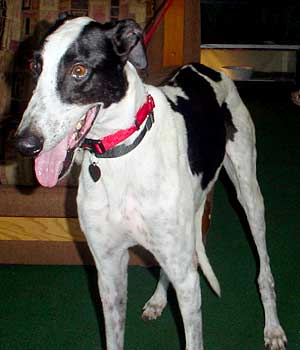 Moses, aka R's Freckles, is a 4½-year-old white and black male greyhound born December 15, 2000. His sire is My Rooster and his dam is R?s Zippitty Zip. Moses was found along with Noah as strays on FM 1388 between Kaufman and Kemp, Texas, wandering with no collar on. Fortunately for both of these boys, they were picked up by a local resident, Donna and her husband, Mike, who are avid animal lovers. Moses and Noah are both heartworm positive, further medical tests are being conducted at this time. Moses is malnourished and very thin with numerous cuts and scrapes on his body. As soon as these results are known, they will be posted here. Moses is small animal and cat tolerant.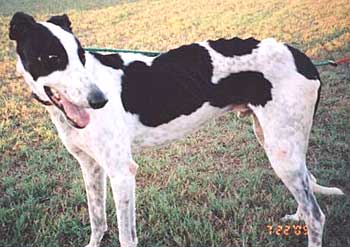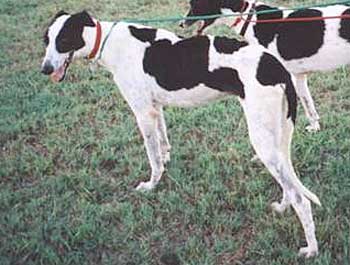 Update 8/11/05
Moses was transported to Preston Park Animal Hospital on Saturday, August 6 in preparation for the first stage of his heartworm treatment. On Monday, August 8, Dr. Jeff Ellis administered the first injection. Moses will have to stay quiet and only can have very, very short leash walks in the back yard. He will go back around September 8 for his second treatment which entails two injections, one day apart. So it will be at least 75-90 days of treatment and convalescence for Moses. He is very thin, and his foster family is working on putting some weight on him.
Update 10/1/05
Moses' second heartworm treatment has been delayed, as his weight dropped down to 58 pounds. He has finally begun to gain some of the loss back. In-depth testing was been done to determine if there was any medical reason for his lack of appetite. As a result of those tests, it was discovered that he has Ehrlichia also. So treatment for the Ehrlichia has started and will continue for 5 more weeks. Dr. Jeff Ellis will determine when the second heartworm treatment can be started, which we hope is very soon. His foster family says he is the perfect foster!