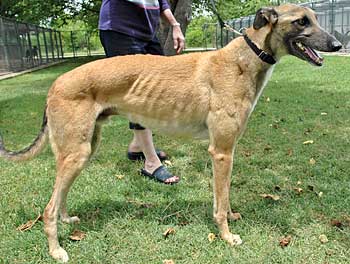 Mo, aka Mo Passion, is a striking 4-year-old dark red male, born July 1, 2001. Mo's sire is the famous Molotov and his dam is Blue Tar. Greyhound-Data.org shows 51 races to Mo's credit all at Bluffs Run in Iowa starting February 18, 2003 and ending January 6, 2004. Mo came to GALT with a plate and screws already in his right rear hock and no record of when they were placed. There appears to be an infection in the leg. Mo is scheduled to see Dr. Bob Radasch of the Dallas Veterinary Surgical Center on Friday, May 20, for a complete evaluation. Results of that appointment will be posted here.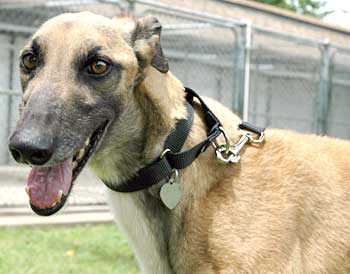 Update 5/20/05
Mo was operated on May 20 by Dr. Bob Radash. The plate and screws were taken out, and a culture of the tissue was taken to determine the type of infection that is affecting the area. He will go to his foster home on 5/21, and his exercise must be monitored very carefully for the next 4-6 weeks as his leg will be weakened due to the screw holes. Results of the culture will be back by 5/28.
Update 5/30/05
Mo's culture came back as a staph infection, and he currently is receiving antibiotics specifically for the infection.
Update 6/20/05
Mo's leg is healing very well, and the staph infection appears to be cured. He has several more weeks of close monitoring of his activity, and then hopefully looking for his forever home!