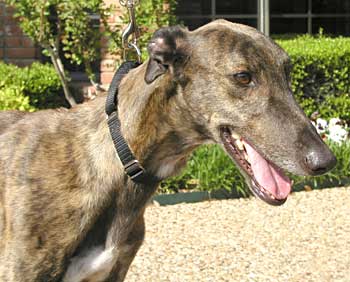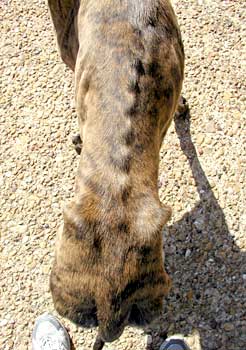 Joey, aka Algoa Bwana, is a handsome 5-year-old dark-chocolate brindle male, born February 9, 2000. Joey has quite a story to tell, and it is one that will touch your heart. Joey was found as a stray in Altus, Oklahoma, with an extension cord wrapped around his neck and a right tibial fracture. One of GALT's adopters, Michelle, who lives in Lawton, Oklahoma, picked him up from the Altus shelter, and he was then transported to Dallas on Friday, April 8, 2005. You can see from the pictures how rail thin he is, but what is even more shocking was to watch him walk on this leg...it is like Jello. Neither leg had much muscle left but the broken one looked like it was just dangling from the hip.
See a Video of Joey Before Surgery
Joey was a contender – 241 races in Florida logged on greyhound-data.org. He gave his heart, his will and his all...and how did he end up as a stray in Altus? That we are still trying to find out.
Joey spent the weekend in the loving home of a GALT foster. Dr. Jeff Ellis evaluated Joey on Monday, April 11, 2005, and determined that he required emergency surgery.
The following is the medical description of Joey's injury, but in layman's terms his leg was broken completely in two and had become misaligned. When he put pressure on the leg, the bone pieces did not even meet. No wonder it was like Jello. Through it all, Joey's tail continued to wag and he continued to want affection. How forgiving is he!!!
Dr. Scott Bertrand of the Dallas Veterinary Surgical Center is his orthopedic vet, referred by Dr. Jeff Ellis. Dr. Bertrand's assessment has revealed chronic mid-diaphyseal right tibial fracture. Surgery was scheduled immediately for Tuesday, April 12. Joey's right tibia had extensive periosteal new bone formation. This callus was removed from the medial cortical surface with rongeurs and a perosteal elevator. Due to musculotendinous contraction and fibrosis, the fracture was not reducible, so an oscillating saw was used to remove about 1cm from each fracture end. The bone was then reduced and stabilized with an intramedullary pin driven normograde from the stifle, a bone plate and 12 screws. The right tibia is now about 2cm shorter than the left, but Dr. Bertrand doesn't think this should cause a serious problem. His biggest concern is whether the muscles, tendons and neurovascular structures will return to normal function. His opinion is that this bone fracture is at least 6-8 weeks old.
Joey's recovery will be at least 12 weeks; diligent convalescent care is critical for a successful outcome with Joey. Severely restricting his activity is going to be very, very difficult and quite a challenge for his foster mom.
In addition to his broken leg, he is positive to Babesia and Rocky Mountain Spotted Fever. Treatment will begin soon for both of these tick-borne diseases.
UPDATE 5/20/05
Joey's leg has much improved once the swelling subsided. The stitches have been removed, and he is being monitored closely so he will not exercise too much. It will be another 4 weeks before the x-rays will be taken to determine if he can be released from Dr. Bertrand's care.
UPDATE 6/20/05
Dr. Bertrand has released Joey from his care! As time goes by, the leg will become stronger and stronger - now to find Joey's forever home!