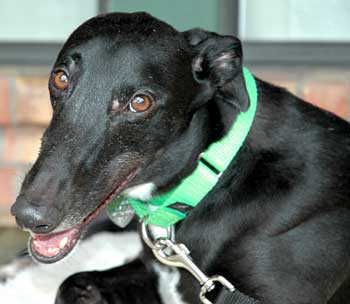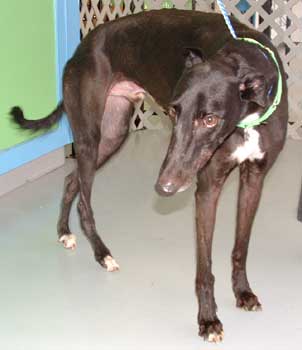 Gabe, aka Rapido Gabe, is a cute 4-year-old black male born June 2, 2000. He is the offspring of Splishin Vallie and Rapido Gerty. Gabe's racing career spanned 112 races starting April 5, 2002 in Corpus Christi, going to Multnomath and ending his career with a broken hock at Valley Race Park in Harlingen in February 2004. His leg was put in a cast by the racing kennel, but has not healed properly. He will hardly stand without holding it up.
Dr. Scott Bertrand of the Dallas Veterinary Surgical Center has seen Gabe and diagnosed him needing an E-Tarsal Arthrodes Partial, which translates into fusing the area below his ankle, which will not impede the movement of his ankle, but will stabilize the area.
---
UPDATE 8/13/04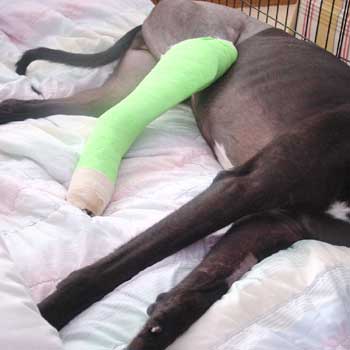 Gabe's surgery was performed on Thursday, August 12. Dr. Scott Bertrand says the partial tarsal arthrodesis went very well. A plate along with 8 screws was inserted along with artificial bone graft material. Gabe will go in every 2 weeks for a bandage change and check. It is expected his cast will be on a minimum of 8 weeks. He will be leash-walked only and will be confined to his x-pen when not under direct supervision. It is very important that he remain quiet during his post-operative period, as his care during this time is as important for a successful outcome as is the surgery itself. Gabe's foster mom and dad are monitoring him very closely.
UPDATE 8/17/04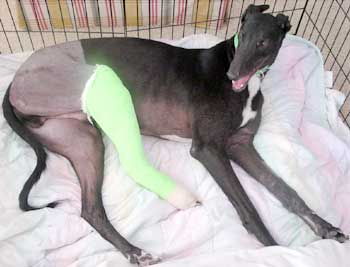 From his foster mom:
Gabe is doing well following his surgery last Thursday. His leg is wrapped down to his toes, with two little toes sticking out, and he is not putting any weight on that foot. He has learned to move himself around very well by tripoding it. It was hard for him at first to figure out how to lay down and get up, as of course his balance is affected. He does not want to be by himself, so we put the x-pen (graciously loaned by Carol Sahlfeld) in the den, so he can see me and my other dogs. He has been sleeping right through the noise. He raises his head to check on everyone, and when he's happy that he knows what's going on, he lays his head back down--as if to say, "OKAY, I'm good, continue on."
He is still such a chow hound, he does not want to miss a morsel, nor does he want to miss any action in the kitchen.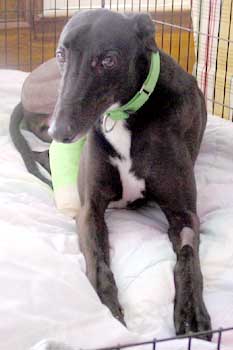 Gabe is a very beautiful young hound and he was just too cute when we picked him up with a lime green vet wrap to match his lime green collar. Talk about handsome (even Dr. Bertrand agreed). He's a great boy, this Gabe.
UPDATE 9/3/04
Gabe, aka Mr. Tripod, was in for his bandage and splint change. There are a couple of sores that are causing concern, so a donut was placed around these areas under the bandage. He will continue to be on antibiotics to ward off any infection. Gabe will go back in 7-10 days for another bandage change so a close watch can be kept on these.
UPDATE 9/16/04
Gabe's bandage change on 9/12 went very well. The tarsal wounds look almost completely healed with minimal discharge. He will continue the bandage changes now every 10-14 days.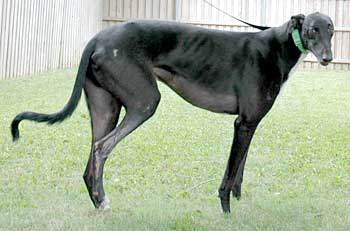 UPDATE 10/15/04
Last Friday, the 8th of October, was an exciting and wonderful day for our Gabe. He got his splint off!!!!!!
It was a happy day for him, and Spiderman too. The doctors are happy with Gabe's recovery and he has healed very well. His leg had some sores - from pressure wounds - which is to be expected. It's been a week and his sores have healed. He is gradually putting more weight on that leg each day, and we are to return to normal activity slowly. So we take short walks every day, going a little farther each day. Today he didn't slow down at all.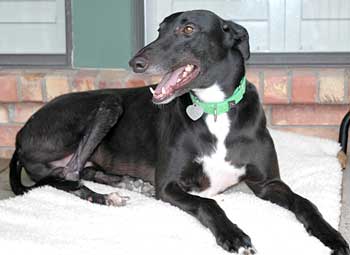 It has been months since he has had the use of a leg that didn't hurt him when he put weight on it. Then it was splinted for 2 months. So, it has been a very long time since this sweet, beautiful boy has had 4 good legs. And now, thanks to GALT's care and good works, Gabe will be able to run like a greyhound very soon. That's a job well done.
THANKS TO ALL WHO HAVE HELPED!