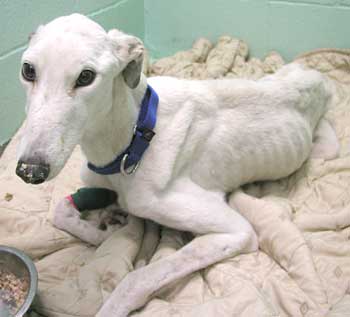 Fannie was found as a stray along with Kay and Valerie huddled in a ditch in an area south of Fort Worth. As you can see Fannie is extremely malnourished and dehydrated, weighing only 30.7 pounds when she arrived. She and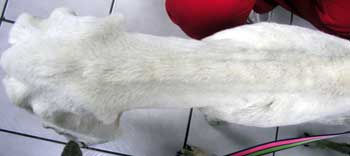 Kay both received immediate blood transfusions, and were watched closely at an emergency clinic for several days receiving fluids and feedings every several hours. Blood work for each is pending at this time. Fannie is being closely monitored by Dr. Christy Soileau and Dr. Jeff Ellis of VCA Preston Park Animal Hospital.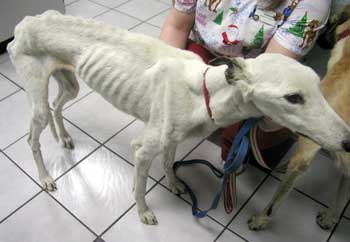 UPDATE 12/15/06
Fannie was released from VCA Preston Park Animal Hospital on Tuesday, December 12 to a foster home, where she and Kay are together. Her weight was 41.7 pounds which tells how very, very dehydrated Fannie was! All the fluids and frequent feedings from the emergency clinic have been quite a help. Fannie's blood work is what would be expected of a greyhound in her condition; however it does show that she is heartworm negative and only positive to Babesia at a low titer. Dr. Soileau and Dr. Ellis are monitoring her PCV and blood work very frequently. Fannie has a huge intestinal parasite load and is being treated for that also. Fannie and Kay are both ravenous when it comes to their frequent feeding times and are being supervised closely as both appear to be food aggressive - of course! Pictures of Fannie will be coming soon. Sincere thanks to all who have had Fannie, Kay and Valerie in their thoughts and prayers.