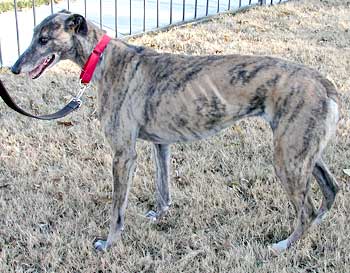 Annie is a 4½-year-old brindle female, born May 2002, found as a stray in the Amarillo area. Her registration number is still being determined.
Sweet and quiet, this beautiful girl is now relaxed in her new environment.

Annie is getting around extremely well since her injured toe was amputated. Soon the bandages will come off and I know this little girl will be zooming around the house. It is a bit early to say which way she is heading personality-wise, but after roaming the great outdoors for over a year, Annie is finding that life in the 'burbs is not so bad.

She is no longer wary of our intentions when we come toward her and shows only a slight reserved shyness when we serve her meals. Annie has learned to take treats from our hands instead of cowering as she did in the beginning. She adapted to the life of a companion greyhound pet. She covets her dog bed, crates easily, and walks well on leash. Due to her injury, we have only explored the back yard on a leash. To our surprise Annie hasn't had any accidents indoors and she gets along very well with her three canine siblings.

The only reminiscence of her hunting days in the wild was the ability to pull out a closed plastic container filled with 40 lbs. of dog food from the laundry room, remove the two huge bottles of laundry detergent that were on top, flip the lids of the food container, and feast. What tenacity! Needless to say, we now store the food in an area she cannot access.

Stay tuned for more updates as Annie continues on her road of recovery and discovery.

Annie's Foster Mom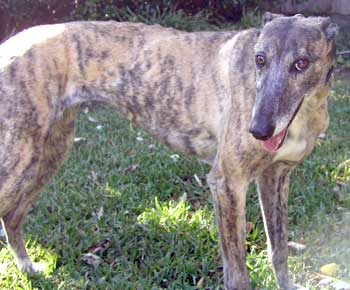 Annie's story is one of a true survivor:
GALT received a call on Tuesday, November 7, from a woman named Connie, saying her mom and step dad had finally captured a greyhound, after almost a year of trying. GALT adopters Marian Jones and her son Kyle were contacted and immediately went to help Connie's parents. Their property is surrounded on one side by a junk yard, other trailers and wide open fields, where a man routinely brings his greyhounds and lets them loose to chase jack rabbits or coyotes. Annie (named because they thought she was anorexic) was on one of these hunts last year, and her front right leg was broken. The guy left her in the field since she was useless to him injured. Over the past year, the couple has left her food and water but Annie was too scared to get too close to them. Just recently the gentleman was able to briefly touch Annie for the first time.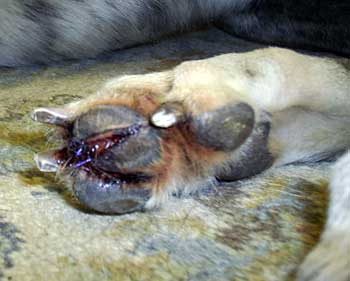 They noticed, within the last two days, that Annie's right rear leg was injured, and she was not bearing weight on it. When Marian and Kyle arrived, with Emma, aka Omega, Annie was in a large fenced area and was very skittish. Kyle was able to carefully and slowly approach her, putting a slip lead around her, and she immediately knew she had been caught and froze. Marian and Emma then moved in and Annie actually looked happy to see another greyhound. Connie's parents gave Annie a hug and tearfully said good-bye.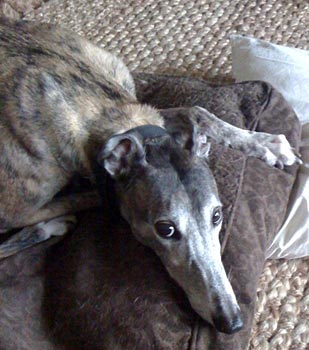 Marian and Kyle took Annie to Animal Medical Center in Amarillo to be evaluated by Dr. Wick Culp, who along with his wife Janet adopted Hope. Annie has a severely torn, deeply cut right rear pad with also a cut on the inside of her front left leg, two swollen toes on her front left foot, a severe infestation of hookworms and fleas, and a large lump on her front right leg where it was previously broken. Preliminary test results indicate she is heartworm negative, but positive to two tick-borne diseases.
Kyle and his dad Lonnie brought Annie to Dallas on Sunday, November 12.
---
Update 11/15/06
Annie saw Dr. Christy Soileau and Dr. Jeff Ellis of VCA Preston Park Animal Hospital on 11/14/06. The cut on her rear paw is so deep the bone can be seen. Annie will be seen daily for the next few days to have her wound cleaned and re-bandaged in an effort to warn off any infection. Additional medications were prescribed. Annie's Protatek results are back and she is positive to Ehrlichia at a high titer, so that is being treated accordingly. Annie's foster home says she is "very, very slowly" warming up – this will take some time.
Update 11/22/06
After more than 10 days of treatment and medicines, Dr. Ellis and Dr. Soileau have determined that amputation of Annie's toe is best. She is scheduled for surgery on Monday, November 27, for removal of the third digit on her right rear foot.
Update 12/15/06
Amputation of Annie's toe went well; the final stitches came out on December 13, and there is only a very small area left to heal. Even though it was a weight-bearing toe, she is using her foot like a champ. Treatment for her Ehrlichia continues at least for another month, and then it will be several weeks before she can be tested again.