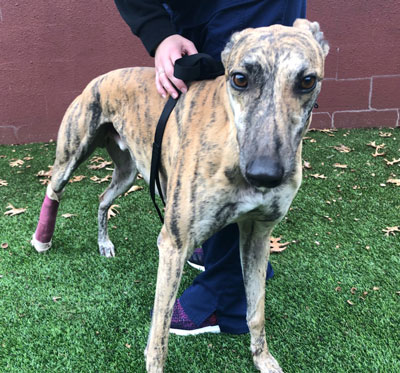 Hank, aka Hangry, is a 4 year old brindle male greyhound born April 26, 2016. His sire is Extruding Dream and his dam is Eye Roller. Hank has 68 races to his credit on GreyhoundData.org. In schooling at Gulf Greyhound Park on December 21, Hank suffered a plantar fascia ligament tear that ended his racing career. With the assistance of volunteers from GPA Houston and GALT's Stew B, Hank arrived to VCA Preston Park Animal Hospital on Thursday, 12/26. He has an appointment at Dallas Veterinary Surgical Center for repair on Friday, December 27. Please check back for updates.
UPDATE 12/31/2019: Dr. Doug Lange performed surgery on Hank on December 27, and an external fixator was put in place. The plantar ligament tear was mended with a pin and tension band. He will be in this apparatus for approximately 6-8 weeks.
UPDATE 6/5/2020: Hank's leg has healed and he is ready to find his forever home.