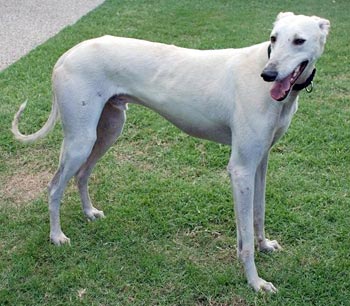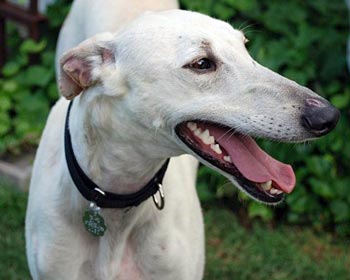 Gus is an approximately 3½-year-old light fawn male who was found as a stray with Lancelot running loose in Alvarado, Texas. He is not tattooed, so his age is an estimate. As with so many strays that GALT receives, Gus tested positive to Ehrlichia. He was treated accordingly for 8 weeks under the care of Dr. Jeff Ellis and Dr. Christy Soileau of VCA Preston Park Animal Hospital. Because his titer did not drop the required two dilutions, Gus was then given a PCR (Polymerase Chain Reaction) test performed by North Carolina State University College of Veterinary Medicine to determine a positive or negative result for an active infection. Gus's test was negative, so he has now completed all his medical procedures and is ready to find his forever home!
Gus's introduction to cats: Gus isn't "that bad" with cats, but we can't recommend he go to a home with them. He minds voice commands very well, so he would be fine on a short-term social visit to a home with kitties where he can be closely supervised. The need for such constant supervision in a fulltime kitty household would be highly stressful, though. His secondary cat test lasted four days. He never lost the urge to chase and play with the cats. Although Gus was allowed to roam freely throughout the house without a muzzle, I constantly had to watch him and call him away from the cat when he wasn't napping. Gus is a wonderful, playful boy with lots of energy and love to give.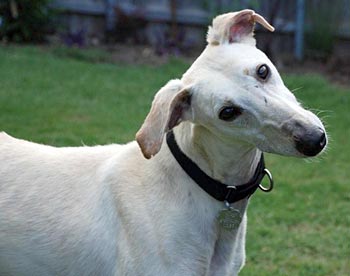 Outdoors on walks with his foster, he's quite excited to see squirrels, of course. Outdoors can be a whole different ballgame with the cat, too. GALT advises close supervision when introducing a Greyhound to a home with feline residents.
Gus is a crazy, happy guy that loves to be around people. He isn't shy and will tell you all you want to know if you know dog language.

Gus is fine in the crate once you have left the house, but he will tell you on your way out the door that he isn't happy to be left. He wants to come along with you wherever you go. Of course, that means Gus luvvvs his walk.

He is fine as an only dog if he isn't left alone every day. Gus isn't neutral about anything and that includes his toys--he goes through a lot. When he wants petting, he goes down on his back, paws in the air. How can you resist such a cutie?

Gus's Foster Mom