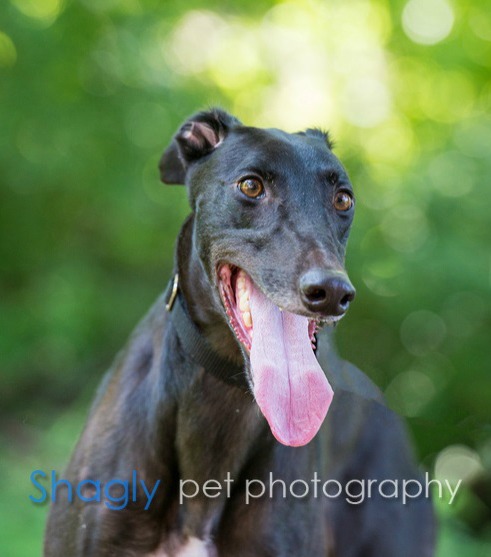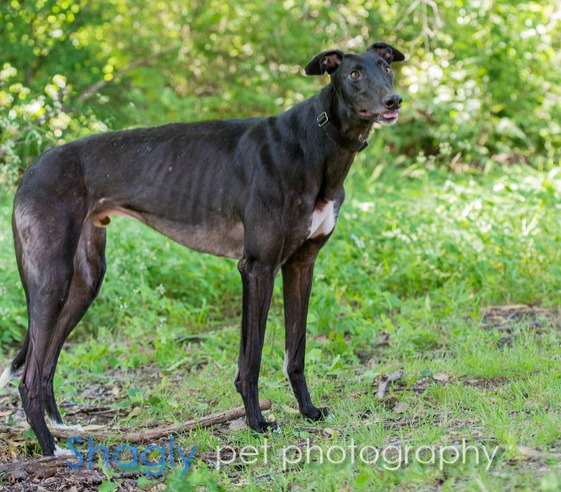 Gunny, aka WW's Sweet Gum, is a 3-year-old black male born May 17, 2011. His sire is Kiowa WW Brother and his dam is WW's Sweet Apple. He has 62 races on record at Greyhound-data.com in Arkansas and Florida, starting in October 2012 and finishing up in April 2014. What a looker!
There was evidence that Gunny suffered a prior right hock injury prior to his arrival with GALT. X-rays were taken by Dr. Jeff Ellis of VCA Preston Park Animal Hospital and then analyzed by Antech Imaging Services. They show chronic, now healed, fractures involving the third and possibly the fourth tarsal bones. Osteoarthritis is evident, and Gunny is receiving Dasequin on a daily basis.
Gunny has passed an initial cat test and is living in a foster home with cats.
Gunny's day begins with excitement, hearing my alarm clock go off at 5:30 a.m. He comes to my side of the bed, nuzzles me and sometimes offers a little kiss. He does let us sleep in on weekends as long as no alarm goes off.

Although his foster siblings eat in the kitchen, we feed Gunny in the spare bedroom with the door shut. We're hoping being by himself he'll learn not to eat so quickly. Sometimes after breakfast, he finds a nylabone and tosses it to himself a couple of times. Other times he stays in the kitchen for some one-on-one time with me.

When we play in the backyard, he won't pick up a ball or squeaky toy that we throw. Instead, he runs to the toy, waits for his foster brother to pick it up, and then chases the foster brother. Inside, he is willing to share his bed and toys. Although he's wonderful with our dogs, he is nervous of the cats and does tend to prefer the company of the adult family members. He always needs to know where we are going and what we are doing. He's also not afraid of strangers. When friends came over with their children, Gunny immediately trusted them and wanted to play.

Gunny hasn't quite figured out hardwood floors yet. He's been known to take corners too fast and have a wipe out. We're working on slowing him down on them, and when he stands up so his hind legs don't slip out from under him. One odd thing about Gunny is he seems to be afraid of parked cars. We are working on that, especially on our walks and he has gotten remarkably better. Otherwise, not much fazes this sweet, well-mannered boy. He truly deserves a family that will give him the unconditional love that he gives back!