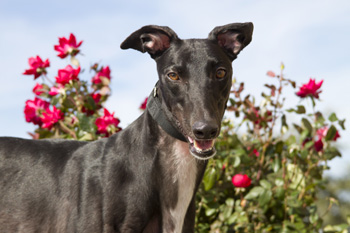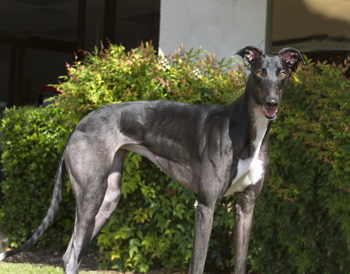 Greta, aka Nina's Gift, is a cute two-year-old black female born December 7, 2009. Her sire is the Irish-bred Heart Rumble, and her dam is Greta's Bonnie. Greta suffered the career ending injury of a fracture of her right central tarsal bone on August 13th at Gulf Greyhound Park in La Marque, TX. Greta was evaluated by Dr. Christy Soileau of VCA Preston Park Animal Hospital and referred to Dr. Doug Lange of the Dallas Veterinary Surgical Center.
Surgery was performed on August 19 to repair the chronic fracture with stabilization of the bone with two 2.7mm screws placed in lag fashion. X-rays taken on October 14th show the bone to be healed, and Dr.Lange is optimistic that Greta will have an excellent outcome. As with all fractures involving screws, these screws may have to be removed in the future if irritation surfaces. Greta's medical procedures were completed on October 20, and she is being leash walked for 3-4 weeks. This sweet loving girl is ready to find her forever home!
Greta is not cat tolerant.
Greta is a sleek, shiny girl who justs wants to have fun. She is energetic, happy and loves attention. On walks she wants to meet anyone willing to give her the time of day and some petting. In fact, she would be happy to follow many of her admirers home.

Greta loves the other canines in the house. She is a very smart girl - she remembers every rabbit and squirrel we have come across and even if weeks have passed, Greta stops in the same initial spot she first observed them, waiting for them to hop out and "play" with her.

Greta behaves very well indoors. She is crate trained and house trained.

Greta's Foster Mom