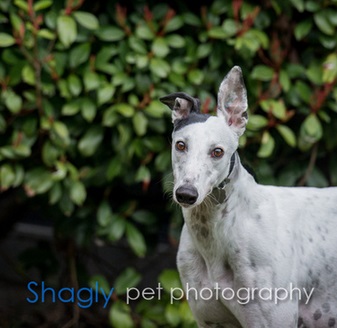 Greg, aka Dena's Greg, is a 2½-year-old white and black male born April 4, 2012. His sire is No More Loving and his dam is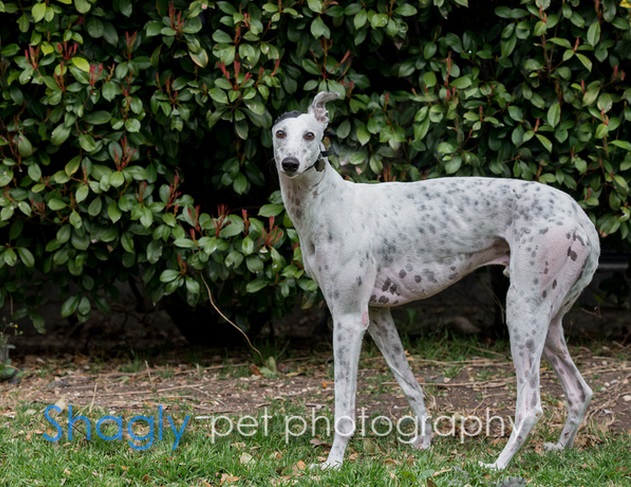 Greek Girl Beth. Greg has 7 races on record at Greyhound-data.com at Mardi Gras Racetrack in Florida from December 2013 to February 2014. He is a little shy at first.
Greg has passed an initial cat test, but has not yet spent time with them in a foster home.
Let me tell you all about his special boy starting with the fact that he requires a great deal of patience when there is change. If you saw his pictures early on when he was hanging out in the bathroom, he will likely revert and may spend a week or more in a spare bathroom until he gets comfortable with his surroundings. When he was like that, I made sure he had food and water right there and I just clipped on the leash to lead him to the backyard. He'd come back in and go right to his safe spot (he did this when he was in a vacation foster home for a week in May). Once he's a bit more sure of his surroundings, I closed the door to that bathroom and forced him to be with the pack. Greg is quite observant and cautious about everything at first. Once he's comfortable, he hangs out near us and hasn't gone back to the bathroom.

Greg does get on furniture and if there are loose cushions, he tosses them around. He's a collector - hasn't destroyed anything other than paper (he's a shredding machine), just likes to collect pillows, towels, shoes and toys. He usually does this when he's excited as I prepare his dinner: my boy taught him that and they both bounce and paw at me to hurry up. I haven't crated him when we're out and there have been no accidents. Greg can tell time - he knows when it's time to eat and is an early riser (around 5:30-6:15) and starts to play. Greg likes to go on a walk, he stays VERY close, but hasn't peed or pooped on a leash - so he needs a yard.

Greg is very partial to women and still a bit fearful or men and strangers. At meet and greets he is firmly attached to my leg and a heavy leaner. At home he's wildly silly, still a bit skittish, whines when he needs to go out or eat, does a "superexcitedhappydance" at meal time. I hope one day he will be cuddly - it will take a bit of patience and time. Greg does come up for kisses and lets me hug him. He passed his initial cat test soon after he came to GALT though he has never lived with kitties. Greg will do fine with a small dog, he has no prey drive that I've seen - and regardless of size, he needs a companion dog. After being here for 4 months, he has started to bow and play chase with our cattle dog mix. They are a sight!

Do you have a spare couch, yard, companion dog and patience to make Greg part of your pack?

Greg's Foster Family