Seniors are the best kept secret in the Greyhound World.
Please consider giving an older greyhound a special place in your heart!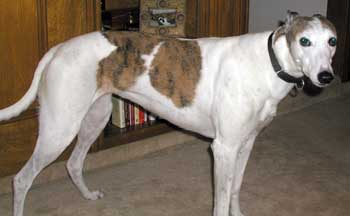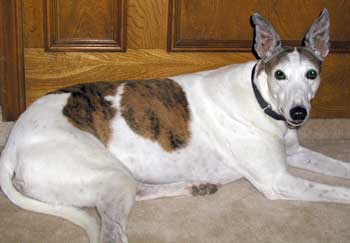 Grace, aka Birthplace, is a gorgeous white and brindle 10-year-old female, born November 24, 1996. Her sire is HM's Flamboyant, making her grand sire the famous Dutch Bahama, and her dam is Buzz Time. Grace has been in a home for several years, but was surrendered due to a change in the owners' lives. Greyhound-Data shows her racing career to have been 15 races, starting July 10, 1998, in Iowa, and ending January 21, 1999, at Southland in West Memphis, Arkansas. Grace will make a wonderful companion with her outgoing sweet personality. She is not cat or small animal tolerant.
Grace is a beautiful 10-year-old girl. If you can see past the fact that she is a senior, you will find that she is a very young 10 year old and the absolute perfect pet. She is affectionate, outgoing, friendly, sweet, and extremely cute. You won't find a better dog.

She gets along very well with her greyhound roommates, but is a little too interested in the cats. Hopefully, she can find a cat-free home or a home where the cats are kept separately. Although I don't have young children, I have seen her seek out children when she sees them so she may have shared a home with children in the past.

Grace has been in a few homes since retiring from racing, but she adjusts well and quickly. She is a very content girl, her tail never stops wagging. Grace walks well on a leash and loves to roam around my fenced-in yard. She also likes to take a snooze in the grass. Grace sleeps in my room at night and I usually have to wake her up in the morning! If I didn't already have three dogs of my own, Grace would be staying as I truly adore her. I hope she finally finds her truly forever home which she so deserves.

Grace's Foster Mom