Seniors are the best kept secret in the Greyhound World.
Please consider giving an older greyhound a special place in your heart!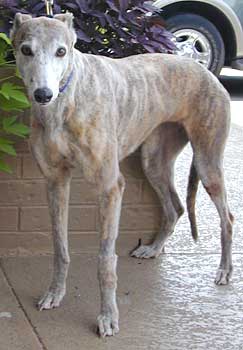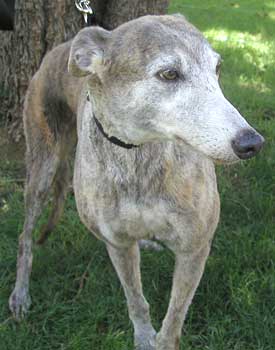 Glory, aka Itsa Hooter, is a sweet, loving, 10-year-old blue brindle born May 26, 1997. Her sire is Rapido Rambo, making her grand sire Wigwam Wag, and her dam is Itsa Closer. After a career of 76 races, all at Daytona Beach, Florida, she finished her last race on April 18, 2002. Glory was a brood matron, whelping 10 pups with Iza Scat Cat. One of hers, AZ Charmer, aka Di, is a GALT greyhound. Glory is in a home with two other greyhounds, one being Di, and is slowly getting accustomed to life outside a kennel.
Glory spent the day with a Pomeranian and didn't have any interest in her. They sniffed each other and then Glory decided it was time for another nap and laid down on her bed. It is not known at this time if Glory is cat tolerant.
I am a 10-year-old senior and I love to lay in the room with my foster parents. I will follow them and then make myself comfy, usually right at their feet or on the floor next to where they are sitting. I don't play with toys but I do have a favorite stuffed bear that I sleep with on my dog bed. I love to watch myself in the bathroom mirror, too. I think it's funny that there is another dog looking back at me!

During the day I have a bed in the living room where I sleep most of the day. I have been on a few walks around the block and I don't pull or try to trip you while we walk. I am a very gentle walker but I get tired if it's too far. I'm not used to that sort of thing yet. I know how to use a dog door. I went through it the first day. They say I'm "smart."

I know to get up in the night when I need to go out and have not had one single accident in the house! I'm such a good girl!! I don't really play with the other dogs but I enjoy watching my daughter Di (whom I live with right now) throw her monkeys around the living room.

I live with three other doggies and we all get along very well. I love to sleep upside down with my legs straight up in the air! I'm a very easy-going girl and would make a loving addition to any family. I have not been tested with small dogs or cats yet, and I don't surf the counters either.

If you think I would be a greyt addition to your family, just contact the folks at GALT and let them know that you want to meet me!

Glory, via her Foster Mom