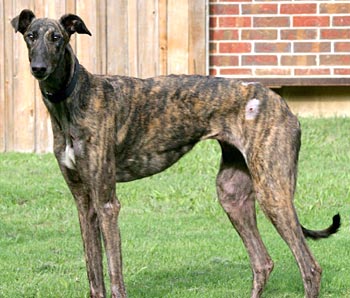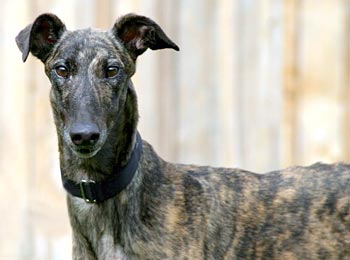 Georgia, aka PTL Baby Talk, is a petite, 3-year-old brindle female born October 20, 2005. Her sire is DK's Prime Time, making her grand sire the famous Molotov, and her dam is GF's Baby Cake. Georgia's career of six races started May 28, 2007, at the Orange Park track in FL, and ended July 20, 2008, in Naples-Ft. Myers, FL.
When she arrived, Georgia tested positive for Ehrlichia. She was treated by Dr. Jeff Ellis and Dr. Christy Soileau of VCA Preston Park Animal Hospital. To insure the treatment was successful, Dr. Jeff Ellis submitted a PCR (Polymerase Chain Reaction) panel to North Carolina State University College of Veterinary Medicine lab to determine if the Ehrlichia is active, and the results are negative at this time.
It is not known at this time if Georgia is cat or small animal tolerant.