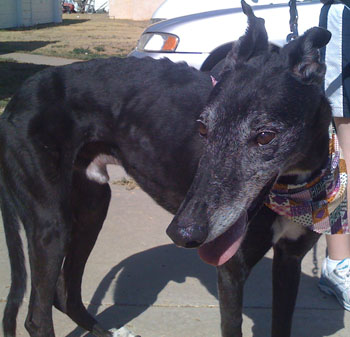 Freeman, aka P's Nosey Agent, is an 8-year-old black male born March 9, 2003. His sire is Jimbo Scotty and his dam is P's Nosey Posey. Freeman was found as a stray and taken to Amarillo Animal Shelter. He was in rough shape, with an extremely heavy tick and internal parasite infestation. Freeman has completed his medical treatment and is ready to enter the adoption ring.
Freeman has 71 races to his credit starting January 29, 2005, at Lincoln Park in Rhode Island, transferring and finishing on November 3, 2006 at Tri State in West Virginia. He is one sweet, sweet boy!
Freeman is not cat tolerant.
Since he was a stray, it's not surprising that Freeman was a little shy and timid when he first arrived - fearful of tossed toys and raised arms. But he's come a long way during his stay with us, and his personality is really starting to blossom! He gets the occasional desire to zoom around the yard now, and likes to play bitey-face with other dogs.

Freeman could teach a master class on the art of napping, although he'd have to sub out the section about 'roaching' on your back - that's just not the way he rolls. He's quite the cuddler and leaner, but shows no interest in joining us on the human furniture, preferring to stick with the dog beds. Freeman is not fond of the crate, but does very well confined to one or two rooms while we're gone.

On walks, he shows a great deal of interest in the noises made by cars, lawn mowers, other dogs in yards and pretty much anything else we pass. He doesn't pull and he has never lunged at any of the things he sees or hears. He is a big, silly, friendly guy that needs a calm, loving owner. Also, he has a cute little mowhawk on top of his big head!

Freeman's Foster Parents