Seniors are the best kept secret in the Greyhound World.
Please consider giving an older greyhound a special place in your heart!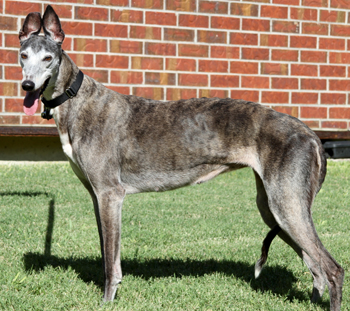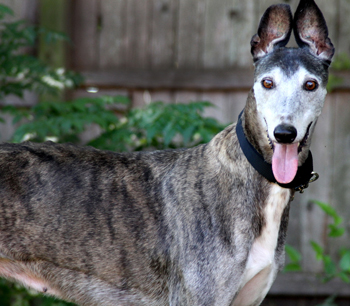 Fanny, aka EZ Awesome Fanny, is a beautiful 10 year old brindle female born April 1, 2001. Her sire is Oshkosh Slammer, and her dam is Cass Rikter, making her full sibling GALT's Grace Kelly. Fanny was quite the racer with 114 active races, starting December 16, 2002, in Tampa, FL. Fanny moved back and forth between Derby Lane and Tampa until her retirement on September 1, 2004. Fanny arrived to the GALT family with elevated liver enzymes which were diagnosed as hepatitis by Dr. Paul Carroll of Midway Hollow Animal Hospital. She was treated for this condition and has made a full recovery. Fanny is ready for her forever home!
It is not known at this time if Fanny is small animal or cat tolerant.