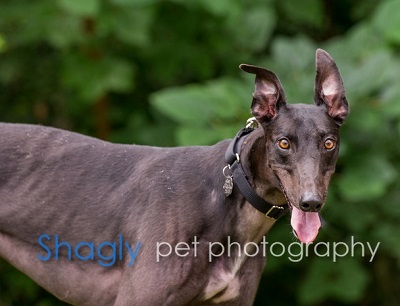 Evian, aka Slatex Evian, is a 3-year-old black female born April 25, 2012. Her sire is Flying Penske and her dam is Slatex Coco Puff. Evian has 72 races on record, all at Gulf Greyhound Park. She started her career in December 2013 and it ended in April 2015 with a broken right rear leg. Evian has not yet been tested with cats or other small animals.
Evian is scheduled for surgery on April 21 at the Dallas Veterinary Surgical Center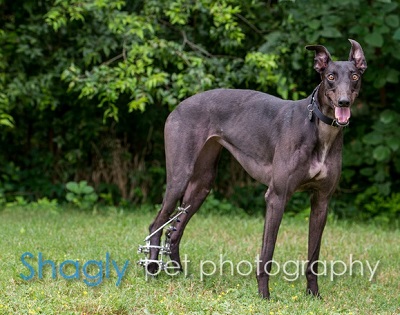 Update 4/25/15
Evian's surgery was performed by Bob Radasch and because of the complexity of the injury, an external fixator was secured and will be in place for at least 10 weeks. Evian is being kept quiet in her foster home with minimal activity.
Update 7/13/15
Evian's x-rays show that her fracture is healed, her medical procedures have been completed, and she has been leash walked for the past two weeks to regain strength in her leg. She is ready to find her forever home!