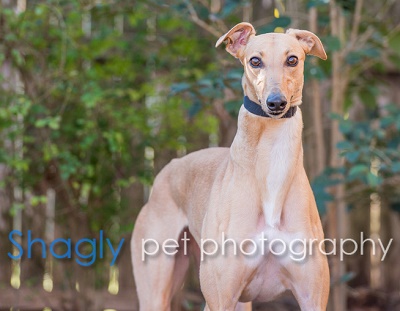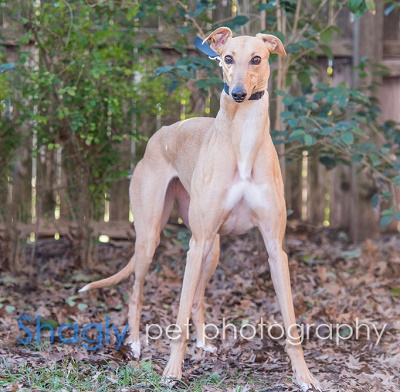 Equal, aka Equal Effort, is a 2.5-year-old red female born December 20, 2013. Her sire is Stan's Boy Flyer and her dam is Xtreme Effort. Equal has 37 races on record in Florida from 2015 to 2016.
Equal is not considered to be cat or small dog tolerant at this time.
UPDATE 8/18/16
Equal's heartworm test results reveal borderline positive. She is in a foster home and the test will be repeated in 30 days.
UPDATE 11/1/16
Equal's heartworm test revealed positive, so she received her first treatment for heartworms on 10/31/16. She is tolerating the treatment okay. She will be scheduled for her second treatment in 4 weeks.
UPDATE 2/1/17
Equal is still testing positive to heartworms, so she will be kept quiet for the next 4 weeks and retested at that time.
UPDATE 4/3/17
Equal's heartworm test still shows positive. She will be retested in 30 days and possibly retreated at that time.
UPDATE 5/23/17
Equal is heartworm negative, and she has completed all her medical procedures. Let's find this sweet girl a home!
Watch more of Equal
Equal is a pleasure to have in our home and is one of the easiest hounds we have fostered. She is very sweet and loving, loves attention and will snuggle with you if allowed. She is respectful of our other dogs' space and doesn't bully or try to take control; she is very adaptable and came into our existing pack with no problems. She eats well and has no food aggression, and we actually play a game every morning with all our dogs called "throw down" where we throw a handful of dog food on the kitchen floor and they each get as many pieces as they can. Equal caught on to this game quickly and had no food guarding or aggression and she loves it! She sleeps through the night and crates well. Equal is rough on stuffies and need to be monitored when she has one. Alternatively, she enjoys the bones she is given in exchange for the deconstructed stuffies. Equal is as close to perfect as they come! Equal's ideal forever home should have no cats or small dogs, have a large yard to run in and people to adore.

Equal's Foster Family
Equal was part of the Greyt 32 Arrival!
The special medical treatment cost needed by Equal is why the Miss Mesa Fund was established. If you would like to help with Equal's care, please take a moment to make a donation to the fund. You WILL and CAN make a difference in Equal's life and the lives of other greyhounds in need of special medical care. Your help and support will make a difference - one greyhound at a time.
Through the GreytStore

DONATE

Through PayPal

By Check

Greyhound Adoption League of Texas
3400 Carlisle St, #310
Dallas, TX 75204

Please note Miss Mesa Fund/Equal on your check.