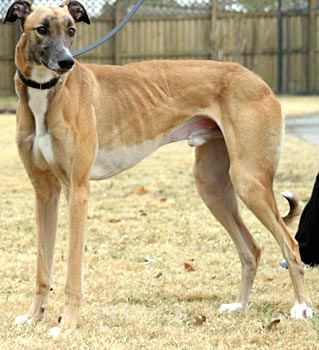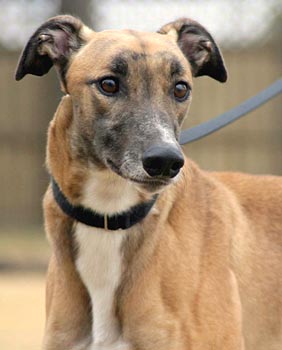 Elmo, aka Elmo In Motion, is a 2-year-old red fawn male born November 20, 2005. His sire is Dodgem By Design, making his grand sire Gable Dodge, and his dam is Marie In Motion, making his grand sire Molotov. Elmo, Fido, and Cara are siblings. Elmo's 6-race career started on November 23, 2007, at Valley Race Park in Harlingen, and ended on December 22, 2007. Elmo has hung up his racing paws and is now looking for his forever home.
Elmo's small animal tests: Elmo took a sniff of the cat with the muzzle, and then turned away. The muzzle was removed and he took another sniff while the cat was in motion. Nothing – he just turned away and proceeded to smell other things about the house. He's been OK with small dogs at the kennel. He was allowed to hang out with a Chihuahua and a Yorkie during play time. Elmo is cat and small dog tolerant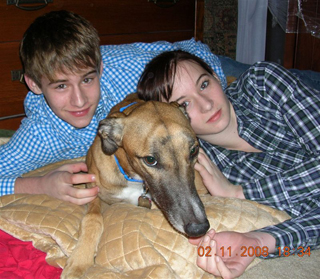 Elmo with his 'human' brother and sister. He also has a 'fur' sister, GALT greyhound, Oasis (now Elli) and 4 'fur' brothers (3 Italian Greyhounds & a Rat Terrier).