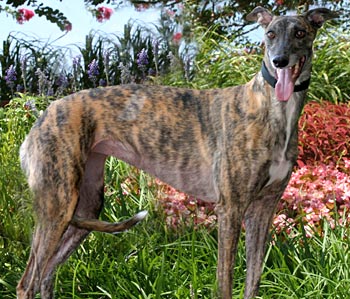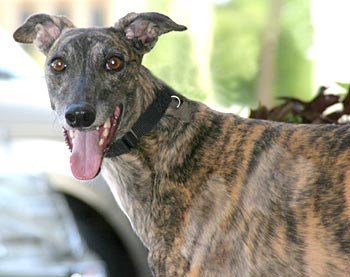 Eliza, aka Bob's Do Tell, is a shy, 3½-year-old, dark brindle female born October 5, 2005. Her sire is Baci, making her grand sire the famous Irish-bred Fortress, and her dam is Bob's Littlelena. Eliza was not interested in her training at Gulf Greyhound Park, and it was decided that she would be retired early when she would not leave the starting box the third time out. She is a quiet girl, who is also timid. Eliza was adopted and in a home for less than a year, but because of changes within the family, she was returned to GALT. Eliza is living in a foster home with 3 cats and is considered cat trainable. She is very shy, so close attention should be paid around cats and small dogs when she comes out of her shell at her forever home.
Eliza takes a few weeks to warm up to people and seems more hesitant around men. It is important to urge her along and give her reassurance in situations where she is timid or uncomfortable. She is very happy to go on walks and adventures with people in a car, but she prefers to be on the journey with other dogs. I think Eliza would be okay with being an only dog, but other dogs will help her acclimate more quickly and thrive at her new home. On the walk she will get as close to you as possible and is uneasy about people approaching her. She needs lots of positive experiences with strangers to help her bloom.

Eliza likes to play and run with other dogs, and she loves to play in the little doggie swimming pool. She prefers to have a "safe spot" in the house where she can feel comfortable and out of the beaten path. She is fine with being crated when left alone and will easily go in with a treat. After being in her foster home for a few weeks, we did not feel the need to crate her. She is housebroken, but needs a regular schedule so she doesn't have accidents.

Eliza responds very well to one-on-one training. This helps her gain confidence in herself and her caretakers. She often forgoes treats for affection during training. Even though she is shy, she loves the affection and closeness from someone she trusts. She needs to be muzzled when not supervised on the leash because she can easily chew through a strong braided nylon leash in a flash.

Eliza was allowed on furniture at her last home. She's been busted on the sofa a few times, but she corrects very easily and really wants to please. She's a small greyhound compared to our hounds, so if you're willing, there is plenty of room to fit on the sofa right next to her.

If you would love a greyt dog with an adorable SMILE that will melt your heart, then Eliza is the hound for you!

Eliza's Foster Parents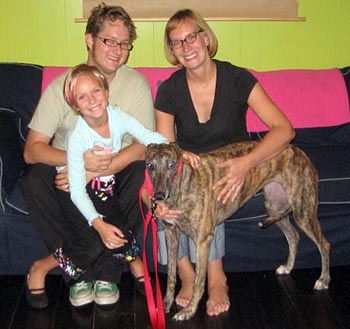 Eliza with her new family.