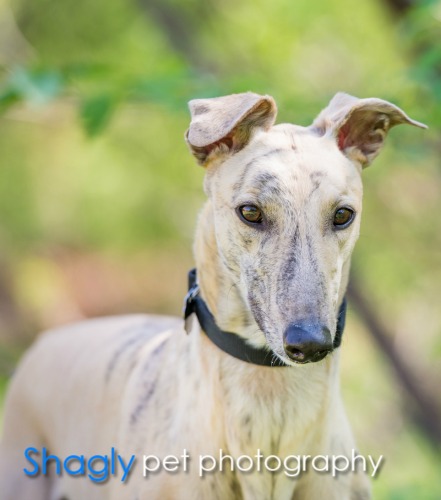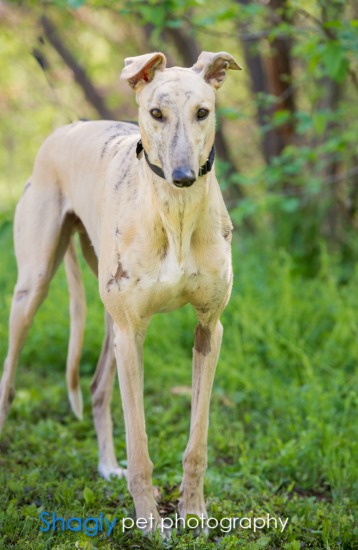 Edward, aka Gable Eddard, is a 2-year-old fawn brindle male born July 29, 2011. His sire is Gable Wyatt and his dam is Tipp Violet. Edward had no interest in racing, so he headed straight for retirement. This handsome boy can't wait to meet you!
Edward should not live with cats.
UPDATE 1/17/14
Edward's foster noticed a limp off and on for the past six weeks. Two sets of x-rays as well as examinations performed by Dr. Jeff Ellis of VCA Preston Park Animal Hospital could not determine the underlining cause. Dr. Ellis referred Edward to Dr. Bob Radasch of the Dallas Veterinary Surgical Center, and after further x-rays, examination and consultation, it was determined that Edward appears to be suffering from tendinitis in his left elbow. He will start treatment soon, which will require a steroid injection followed by very restricted activity.
UPDATE 3/20/14
Edward is continuing with his treatment for the tendinitis with another steroid injection followed by very restricted activity.
UPDATE 4/7/14
Edward is not responding to the injections, so Dr. Radasch will be performing a procedure on his left elbow on Thursday, April 10.
UPDATE 4/11/14
Dr. Radasch performed surgery on Edward on April 10, and a thickened area in one of his foreleg muscles was removed. The remainder of the area appeared normal. A soft padded bandage was applied and will be removed in 4 days. Edward will be leash walked for the next 3 weeks. A biopsy was done on the muscle tissue removed, and the results show no evidence of inflammation or tumor. Indications are that it was a torn muscle from a prior injury.
UPDATE 5/10/14
Dr. Bob Radasch examined Edward now that it has been a month after his surgery. Edward appears to be in no pain as he was prior to surgery, and his range of motion in his elbow is very good. There is still a mild limp present, which may be just a learned behavior that is expected to go away with time. Edward is ready to find his forever home!
With Sweet Edward around, it means you will never be alone! He loves with all his heart and is quick with big sloppy kisses. We believe "Edward" is a bit too formal for this lovable guy, he acts more like an "Eddie". Edward is young, silly and inquisitive – he doesn't counter-surf but if something interesting is within reach, he will use his height advantage and long snout to check it out up close and personal. Meal time is the greatest time of the day - that's when he turns into Tigger! Edward does suffer from separation anxiety and we relocated his crate to the bedroom so he knows we are close by. Edward is enjoying the comfort in his foster home as he seeks out the cushy dog beds to rest his bones. Edward wants nothing more than to have people of his own to love and cherish. If you're looking for a faithful, joyful companion to keep you company and become the center of his universe, Edward is the one for you!

Edward's Foster Parents