Seniors are the best kept secret in the Greyhound World.
Please consider giving an older greyhound a special place in your heart!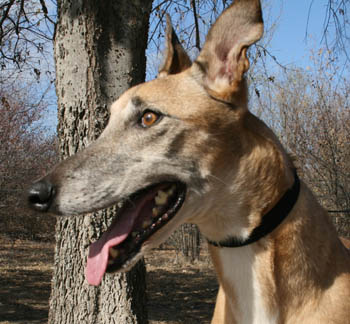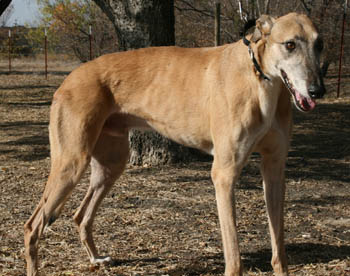 Eddy, aka Seegold Endeavor, is a 10-year-old red male born May 16, 2003 to sire Seegold Baron and dam Blairgold Lexie. Eddy has 21 races to his credit from December 2004 to April 2005. He is very well socialized, and has a laid-back personality but he loves to play too. This big, gorgeous boy is looking forward to a successful search for his forever home!
Eddy has not yet been tested with cats or other small animals.
UPDATE 8/21/13
Eddy has been diagnosed with osteosarcoma in his right front leg by Dr. Jeff Ellis of VCA Preston Park Animal Hospital. X-rays of his lungs also show shadowing which could be a tumor. He is being kept comfortable with pain medications in a loving foster home for as long as possible.
UPDATE 9/12/13
Eddy has left us for the Rainbow Bridge.
The special medical treatment cost needed by Eddy is why the Miss Mesa Fund was established. If you would like to help with Eddy's care, please take a moment to make a donation to the fund. You can use a credit card, check or PayPal by making the donation through the GALT GreytStore. You can also write a check (Greyhound Adoption League of Texas, 3400 Carlisle St, #310, Eddy, TX 75204) and note Miss Mesa Fund/Eddy on your check.
Alternately, you can make a donation using PayPal by clicking on the button below. (The PayPal screen should appear in a new browser window; to return to GALT, close the PayPal window when you're finished making your donation.)
You WILL and CAN make a difference in Eddy's life and the lives of other greyhounds in need of special medical care. Your help and support will make a difference... one greyhound at a time.
Eddy is a large red male with a very laid back personality. He gets along great with my other male Greyhound and he is especially tolerant of my 22-month toddler who can put him through his paces. We have no reservations about Eddy being around children. Eddy is a big boy and loves to eat and has no health issues. Eddy spends his days napping and he is fully house trained and uses the doggie door. He is exceptionally well socialized and friendly to other animals and everyone he comes in contact with. He walks well on a leash and enjoys long walks and exploring the backyard and neighborhood. Each mooring he is the first to greet me with great enthusiasm as he is always very happy and eager to meet the day.

Eddy's Foster Dad