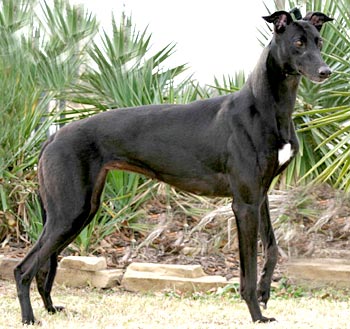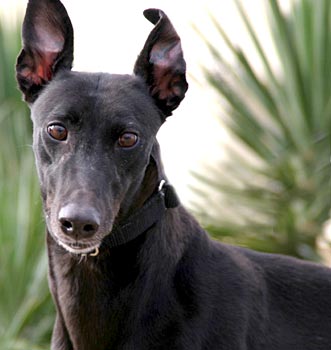 Dreamy, aka Dreamnofparadise, is a 3½-year-old shiny black female born August 11, 2005. Her sire is Impossible Dream and her dam is Iwantthattrophy. Dreamy has 31 races to her credit all at Derby Lane in St. Petersburg, Florida beginning on March 8, 2007 and ending on July 17, 2007. She was a steady racer but seems to have had thoughts of her life in retirement. She is a beautiful, petite girl with very expressive ears.
Dreamy bopped by the cat: Dreamy saw the cats and her ears popped up and she went in for a sniff and got bopped on the nose and hissed at for her efforts. She backed off right away and then went on to sniff Pepper, then moved on to check out other things. Dreamy is a bit submissive and backs off right away when you tell her "No!" Dreamy should be cat trainable. As always, introduce her to any new cats with caution and a muzzle. What a sweet little girl. We will test her with small dogs later.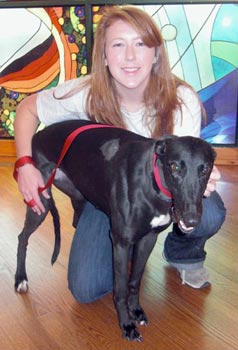 Dreamy, now Cricket, with her new forever mom. Not pictured, her dad and her fur brother, GALT Greyhound, Fred.