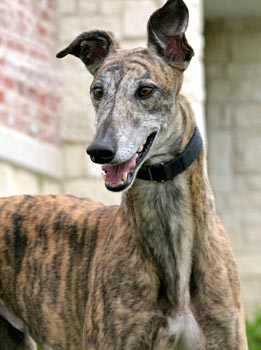 Tragedy struck suddenly Thursday evening as Divine was being delivered to her forever home. It was noted that Divine's stomach was suddenly becoming distended. She was rushed to the North Texas Emergency Clinic where she underwent a series of tests and x-rays, revealing a mass of clear fluid in her abdomen, causing her heart rate and blood pressure to skyrocket. Divine crossed to the Rainbow Bridge July 15 at 5:10am. Her cause of death was torsion of the spleen.
Divine was loved by many, many GALT family members, but especially by her foster mom, Nancy, and her future mom, Marsha.
Divine, aka Thea Divine, is a beautiful, 6-year-old brindle female born March 18, 2005. Her sire is Get Over and her dam is Camden Coming. Divine's racing career consists of 109 races starting January 20, 2007, at Lincoln Park, Rhode Island, moving to Raynham Park in Massachusetts and finishing on March 15, 2009, at Valley Race Park in Harlingen, TX. Divine was in a home for two years, but it was not destined to be her forever home. Divine began to experience seizures in her former home. Since arriving at GALT, there have been no seizures, only a very slight head tilt. After a thourough medical evaluation by Dr. Christy Soileau of VCA Preston Park Animal Hospital, there are no apparent neurological issues at this time. Dr. Soileau recommends that Divine be placed in a very quiet home with no small children.
Divine's cat test: Cats are a non-issue for Divine. She was curious but polite when meeting them, and has shown no interest in them since.