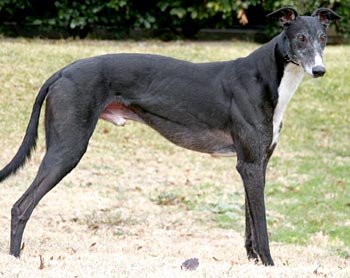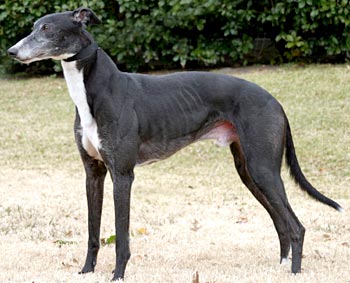 Dennis, aka N Dennis, is a strikingly handsome, 4½-year-old black male born July 7, 2004. His sire is Flying Penske and his dam is N Big Greta, making his grand sire Molotov. As you can see, Dennis takes after his grand sire with the famous white Molotov throat! Dennis' career of 111 races started on August 3, 2006, at Dubuque in Iowa, moving to Valley Race Park for the 2006-2007 season, back to Dubuque, then on to VRP again for the 2007-2008 season, and finishing in Dubuque on October 3, 2008. Dennis was a finalist in the 2006 Dubuque Future Star Stakes race. This has been one racin' boy, and he is ready to find his forever home and couch!
Dennis' positive cat test: Dennis was a bit interested in the cats when he first saw them, but after Molly gave him the "what for" when he tried to sniff her, he decided that there were other interesting things for him to investigate. He was also interested a bit when they went down the hallway, but once he got a couple of sniffs of them, he moved on to other things. I think Dennis will be cat trainable. Please remember that when introducing new cats to Dennis, use a muzzle as a precaution. We will see how he does with small dogs later.
Dennis is all dressed up (in his very finest tuxedo) and ready to go (racing into your heart). Dennis went from class AA racer to happily retired as if this was exactly the life he'd been preparing for these 4 years.

Dennis has the most dazzling broad white blaze, creating the perfect tux to wear to an inaugural ball, or perhaps just an excellent imitation of a penguin. In either case, Dennis has striking markings, with his white blaze, white toes, and white-tipped tail. He is definitely his grandfather's (Molotov) grandson, both in looks and capabilities. His white-flecked face is probably more his particular markings than age as he has the same unique flecking on the backs of his legs and his tummy. Now that he is retired, he's happy to take long walks, but not too inclined to run. He does love to chase squirrels, so he loves to go out in the yard.

One of the delightful things about being Dennis' first home is watching him discover a whole new world. The first few days he growled at his reflection--in the mirror, in windows, in the oven door. He has gradually become more accustomed to this constant doggy companion. During the first week at home he was offered a new toy, his first toy. Thus began a love affair with toys. He was delighted to discover that he could make toys make noises. Whether tossing toys in the air or chewing on the squeakies, kongs, or nylabones, Dennis is enjoying retirement to the fullest.

What Dennis most loves is to be with people. He loves to snuggle, loves to be in the same room with his people, loves to have his ears and face rubbed, loves to kiss.

Quickly, Dennis is learning house manners including: "leave it" and "lie down" and "wait." He is just being introduced to "sit." Not bad for 2 weeks.

When Dennis arrived in our home, there was another male foster here, too. The two were quite competitive. Dennis looked like he was going to live up to his namesake; however, once the other male had the good fortune to move to his forever home, Dennis settled in to being a quiet, happy, loving couch potato. He is still with our girl greyhound, and they quite enjoy each other. This is not to say that Dennis wouldn't be fine with another male, just that even though this was his first experience, it should be noted.

Dennis happily sleeps in his crate at night. He has also done just fine outside the crate at night. He's had no accidents.

Adopting a dog newly off the track is a treasure and a gift, both for you and the dog. Dennis is like a kid in a candy shop. There are so many incredible things in the universe, he is not sure what to explore first: some things get him into some trouble, some are just pure happiness, and he is learning to discern the difference. If he is lucky enough to find a home in your house and your hearts, you will all be richly rewarded as you teach Dennis what life as a loving companion can be.

Dennis' Foster Mom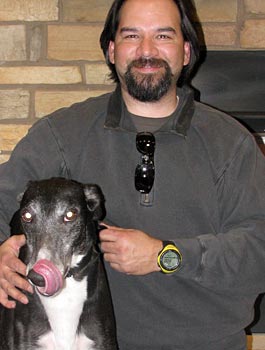 Dennis with his new Dad!