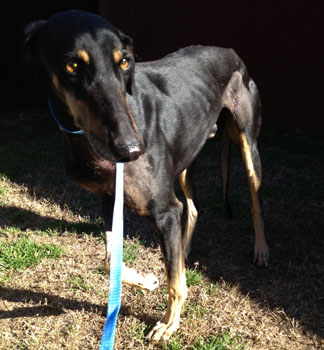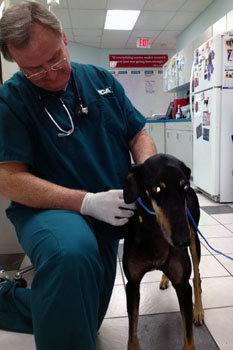 Daniel is an approximately 2-year-old black greyhound/saluki mix. Daniel was surrendered to the Alvarado Animal Control by his owner after he was attacked by other dogs in the household. His wounds were horrific on his chest - this is a very graphic picture, so be aware. Daniel was placed under the care of the Alvarado Animal Control's veterinarian on March 8, and he was released to one of GALT's veterinarians, Dr. Jeff Ellis of VCA Preston Park Animal Hospital on Monday, March 11.
Dr. Ellis pulled his drain tubes on March 12, and Daniel was watched very carefully while his wounds closed up. He was treated for a heavy load of intestinal parasites, but his bloodwork is normal and he is negative to heartworm and tick-borne diseases. This sweet boy is all healed up now and ready to meet you!
Daniel passed an initial cat test, but later decided cats are too much fun to chase - no kitties for Daniel.
In the few short months since Daniel has been lucky enough to come to GALT, he has recovered from horrendous wounds, gained weight and confidence. While he is still somewhat shy, especially around men, and while sudden noises or movements still scare him, Daniel has become quite the clown and toy slayer.

Daniel's most favorite activities all involve being outdoors. He's happiest when he is outdoors exploring and running the fence line after vehicles. Since he is not full greyhound, but part smooth saluki, he has much more energy. He happily runs and frolics for hours. He does, however, sleep through the night. A fairly early riser, he just sits and sings to us to remind us to get the day started. He has a gorgeous, natural sit.

Daniel loves to eat, but must be missing some of the usual doggie genes. He does not like either peanut butter or cheese (except squeezy cheese from a squirt can). He loves cookies and treats, but doesn't have a strong need to chew. Hence very hard treats are often rejected. He is enjoying his yogurt "popsicles" now, and will take them from our hands.

Each day, we dutifully pick up all the toys and bones that Daniel has used to redecorate the house. Each day, Daniel is determined to show us again where they are better placed. He doesn't so much enjoy squeaking them as just chewing on them and moving them around.

Daniel will often approach us for some snuggling time. He will get right in there with his housemates to get some of the love.

While Daniel does his share of marking outdoors, as any self respecting boy would do, he is well behaved indoors. In fact, the only area where Daniel needs some training is in walking manners.

Daniel is nothing short of stunning, with his shiny black and tan coat and his adorable ears. He is close to the perfect dog, although he will require a quieter, or at least more movement predictable household. He'd probably do better with older rather than younger children. Adopting Daniel means that you adopt a truly grateful boy who is happy to be your loving companion.

Daniel's Foster Parents