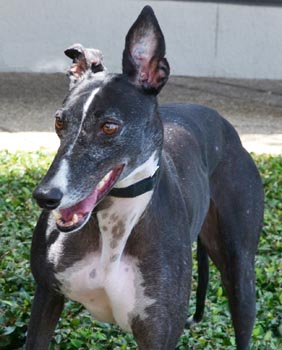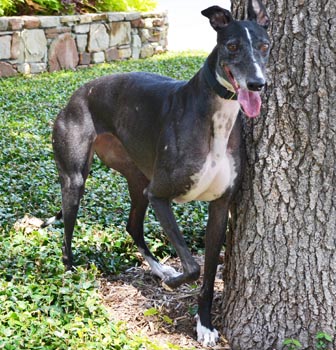 Dani, aka Kiowa Top Danish, is a 4-year-old black female with a cute white stripe on her face. Dani was born on May 29, 2008 - her sire is Flying Penske and her dam is Kiowa Berma Top. Dani has no races to her credit. She is not cat tolerant.
Dani is one of GALT's "Thank Heaven Eleven", who were abandoned in a dog trailer in Witchita Falls in November 2011. They were taken in by the Wichita Falls shelter, and volunteers brought them to join the GALT family on November 30.
Dani was thin, and tested positive for heartworms when she arrived. Six months later, she is now a sleek, happy girl who is finally free from heartworms!
One word to describe Dani? Sweetheart. She loves giving kisses, tossing her toys in the air, and napping in her crate or on a dog pillow. OK, she's been known to sneak up on the couch, but has never tried to jump on the bed.

She's a trooper, too, adjusting to a home with more than a few other greyhounds -- that after living in another foster home with just one other dog while undergoing heart-worm treatment. She has a healthy appetite and is quite food motivated, which is why she is fed in a crate. After meals, she's happy to do her household chores -- becoming a canine vacuum cleaner as she slurps up any crumbs the other greys have left on the floor.

She sleeps through the night, rides in a car well, is crate-trained, gets very excited before walks, and pulls just a little on the leash. She has a lot of energy; for this reason, we suggest that she'd love some older children to play with. Though Dani's used to being around other greys, she would probably do well as an only dog, too.

Dani is neither small dog nor cat tolerant.

Dani's Foster Mom