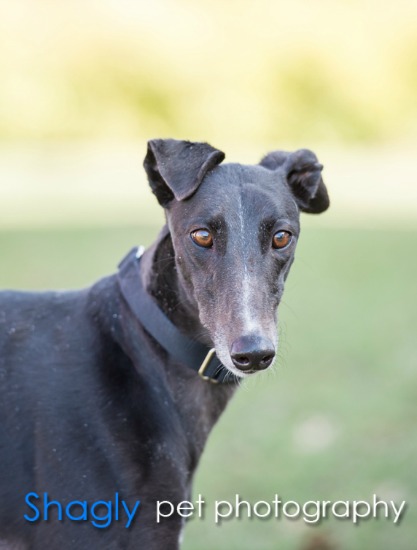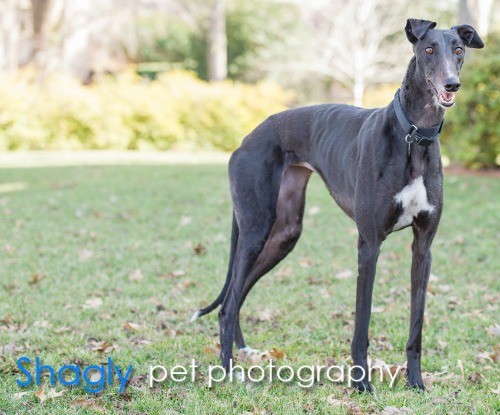 Dallas, aka Slatex Dallas,is a 3-year-old black female born November 1, 2010. Her sire is Trent Lee and her dam is Slatex Isabell. Dallas has 60 races on record on greyhound-data.com, all at the Gulf Greyhound Park where she was a solid grade AA racer. She started her career on July 20, 2012 and finished it on August 11, 2013 with a broken right hock. Dr. Jeff Ellis of VCA Preston Park Animal Hospital has evaluated her injury as a central tarsal bone fracture with three additional shattered bones in the same area. Dallas had surgery at the Dallas Veterinary Surgical Center on Monday, August 26th - see her surgery update below. Dallas is now healed and ready to find her forever home - this sweet, petite girl is a smiler!
Dallas should not live with cats or tiny fluffy dogs. Updated pictures coming soon.
UPDATE 8/26/13
Dr. Bob Radasch performed surgery on Dallas today. Unfortunately, when the cast was removed a compound fracture was found, which means the area is now contaminated and must be cultured. Two screws were inserted into her central tarsal bone, and Wednesday, another surgery will be performed to place a plate on the opposite side where the three additional bones are shattered. Dallas will be in a cast for the next 10-12 weeks. Dr. Radasch is hopeful the repair will be successful, however, she may always have a limp. And, with all broken legs that require screws and plates, those may need to be removed at a later date.
There is so much to say about this petite girl, that I'm not sure where to start! She's smart, she loves to walk, she has wonderful manners in the house, and she smiles when she's excited.

Number one on Dallas's wish list is to catch a squirrel - she's always on the lookout for these big-tailed teases. After that, naps, food, loving and walks all tie for second. She's a little dynamo with a big prey-drive. No kitties or little fuzzy dogs, please, but she gets along very well with medium to large sized dogs.

You can hardly tell her leg was broken - she doesn't show any strain when walking briskly or jogging slowly with me. Though she'd love to curl up on the couch with us, she knows that she's not allowed. Dallas does well either crated, or left loose in the house. She rides very well in the car too.

This little girl is just plain happy, and I think she'll make her forever family happy too.

Dallas's Foster Parents