Seniors are the best kept secret in the Greyhound World.
Please consider giving an older greyhound a special place in your heart!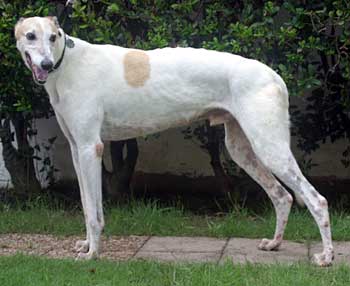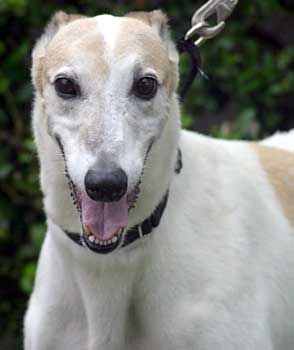 Dakota, aka P's Dakota, is a handsome 11-year-old white and red fawn male, born February 26, 1996. His sire is P's Raising Cain and his dam is P's Double Ott. Dakota was found as a stray eating out of a dumpster in the Wylie area. Greyhound-data shows his last of 32 races to have taken place in Corpus Christie on August 24, 2001. His whereabouts since that time to now, June 2, 2007, are unknown. Dakota arrived heartworm positive, and finally, today November 9, has tested negative after his extensive treatments. Dakota is a very special sweet loving boy.
Dakota saw cats and went the other way. He did not want anything to do with them. Dakota was being petted and one of the cats started walking towards him. Dakota backed away and then walked away. So he is cat tolerant, but he'll have to be introduced to small dogs another time.
Hooray for Dakota. He is heartworm negative and feelin' frisky, ready to go to his forever home. This will need to be a special home that appreciates Dakota's enthusiasm for fun and his determination not to let his somewhat creaky joints slow him down, a home that respects his slower reflexes and his "old man" habit of groaning on the way down. A home with older children and older dogs will probably be better or a home with only human companions who have time for him.

At almost 12 years old, he is as eager to go for a walk as the 6 year old and is mightily insulted to be left behind. His walks just need to be a little slower and somewhat shorter – about 15 minutes. He still has a little hop in his step and a respectable play bow. He loves attention and is very affectionate. Because of his age, he should not be expected to stay long hours in a crate or in the house without a potty break. Being alone for about 6 hours is a reasonable period of time for him. He sleeps through the night if he makes a trip outside just before bedtime. He is very conscientious with a doggie door.

He doesn't need to be crated and is happy to sleep where you are on a fluffy dog bed or a comforter that he will fluff up to his satisfaction. He plays with toys but isn't overly fixated on them. He's just happy to be there, and getting petted is a big plus.

He gets along well with the other dogs in the pack, three males and a female, ages 2-6. Occasionally he will mumble a little warning if someone gets too close to his treat.

Dakota takes Rimadyl and a glucosamine supplement for his arthritis. Because Dakota is such a light-coated dog, he also needs to be protected from too much sun to prevent skin cancer from developing.

Dakota is such a sweetheart that even if he weren't such a beautiful dog with the sweetest expression, he would win your heart.

Dakota's Foster Family