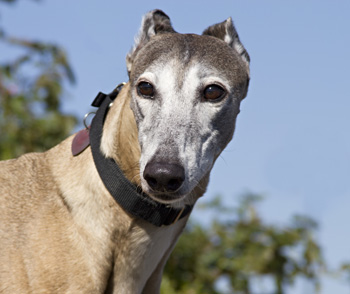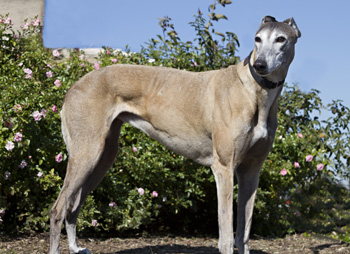 Katie, formerly Cutie, aka AZ Time Out, is a beautiful eight-year-old red fawn female with black shading on her face, born June 8, 2003. Katie and Bitsy are littermates, sharing WW Time Warp as their sire and AZ High Voltage as their dam. She, like Bitsy, is a petite girl. Katie did not "graduate" to a racing career, choosing instead to go directly to her retirement couch! Katie was in a home for six years, but has been returned due to her owner's health problems and no fault of her own.
She is small animal and cat tolerant.

Watch Katie play in this video!
Katie is a very sweet and playful girl! When she wants to play she will lie on the floor and tap her tail on the floor impatiently... then she twitches her feet... tap tap tap... twitch twitch twitch... then she JUMPS up and grabs a toy or play bows to another dog. Then OFF she goes! Shaking toys, spinning in circles (always clockwise), zooming around the room. And woe to the hound who isn't in the mood! She will speak sharply to that dog... "CHASE ME!"... play bow... spin... "CHASE ME!"... spin spin... play bow... ZOOM. If there is no other dog to play chase she will happily play with any available human.

The rest of the day Katie is a velcro hound, wanting to be where you are. She wants a lot of petting and fussing and she will follow you and lean on you to get it. She is very hard to resist; her fur is very soft and velvety and when she looks at you with those pretty brown eyes you simply melt. Resistance is futile.

Katie likes her walks. She must sniff EVERYTHING, so she will pull a little from side to side as she checks out the exciting scents the big world has to offer. She also rides well in the car, settling down quickly. She sleeps through the night, has no food or toy aggression, and never counter surfs. She doesn't get up on the furniture. She really has perfect house manners.

Her previous home had a dog door so she is used to coming and going when she pleases so it has been a bit of a transition since I don't have a dog door. She will often ask to be let out when she doesn't really have any business and will sometimes just turn around and come back inside. She is such a sweet and gentle dog that she would do just fine with children. She is looking for a family to love her. Is it yours?

Katie's Foster Mom