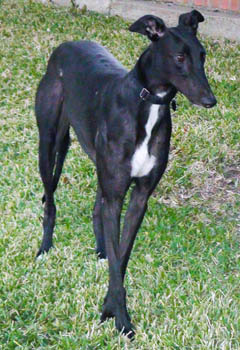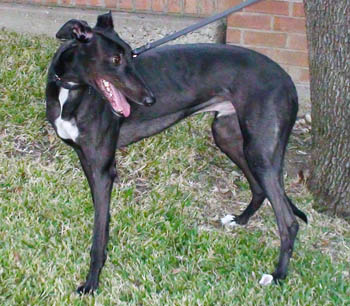 Cracker, aka WWW Firecracker, is a 3-year-old black male born January 1, 2010. Cracker's sire is the Irish-bred Ballymac Flight and his dam is R's Fire Wire, making his grand sire the late, great Dodgem By Design. Cracker has 35 races to his credit on Greyhound-Data.com, all at Gulf Greyhound Park in Texas. He started on August 10, 2011 and ended his career on February 19, 2012 with a broken toe.
Under the care of Dr. Ron Stried of VCA Tanglewood in Austin, Cracker's compound toe fracture was evaluated and his toe subsequently amputated. Cracker's stitches are out, his foot is healed, and he's ready to find his forever home!
Cracker is not cat tolerant.
Cracker is such a sweetie and has an adorable face. He is very curious and likes to follow us around, but he's not underfoot. He is not the least bit shy - he likes everyone he meets. Cracker is a quiet boy, and we've only heard him bark a couple of times.

Cracker just turned 2, so he's got a lot of puppy acivity left in him, but he still likes his naps. He's doing well with his potty manners, but he is still working on not counter surfing. We keep stuff he might chew on or eat well out of reach since he's a little like a small child - he explores with his mouth. He absolutely loves squeaky toys.

He would do well with other large dogs, as he likes to play a little too rough for the smaller ones. We think he has the smarts and the energy to do well with obedience training.

Cracker's Foster Parents