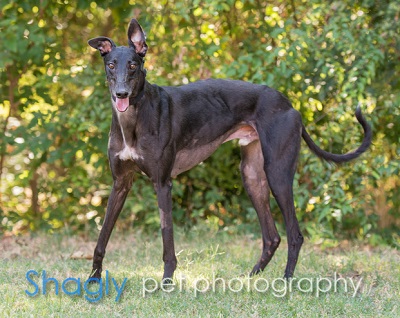 Clever, aka K's Clever Name, is a 2½-year-old black male born November 15, 2012. His sire is Clever Corbin and his dam is Daisey Does It. Clever has 46 races on record, starting at Dubuque, Iowa in April 2014 and finishing at Gulf Greyhound Park on May 9, 2015 with a broken right rear leg.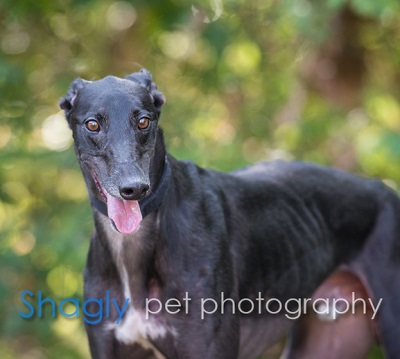 Clever passed an initial cat test, but has not yet lived with them in a foster home. He is doing well living with a small dog.
He had surgery on May 14th at the Dallas Veterinary Surgical Center by Dr. Bob Radasch. Because of the complexity of the injury, an external fixator was used to secure the break. After being kept quiet in his foster home for 10 weeks, Clever has been medically cleared and is ready for adoption! He is an energetic, people-oriented boy.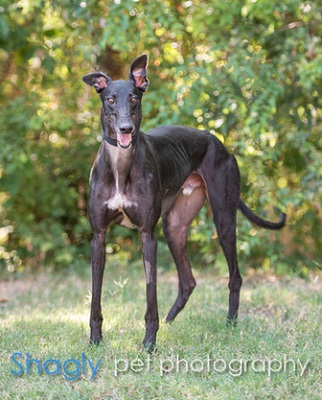 UPDATE 5/15/15
Clever's surgery was performed by Dr. Bob Radasch and because of the complexity of the injury, an external fixator was secured and will be in place for at least 10 weeks. Clever is being kept quiet in his foster home with minimal activity.
The special medical treatment cost needed by Clever is why the Miss Mesa Fund was established. If you would like to help with Clever's care, please take a moment to make a donation to the fund. You can use a credit card, check or PayPal by making the donation through the GALT GreytStore. You can also write a check (Greyhound Adoption League of Texas, 3400 Carlisle St, #310, Dallas, TX 75204) and note Miss Mesa Fund/Clever on your check.
Alternately, you can make a donation using PayPal by clicking on the button below. (The PayPal screen should appear in a new browser window; to return to GALT, close the PayPal window when you're finished making your donation.)
You WILL and CAN make a difference in Clever's life and the lives of other greyhounds in need of special medical care. Your help and support will make a difference... one greyhound at a time.