Seniors are the best kept secret in the Greyhound World.
Please consider giving an older greyhound a special place in your heart!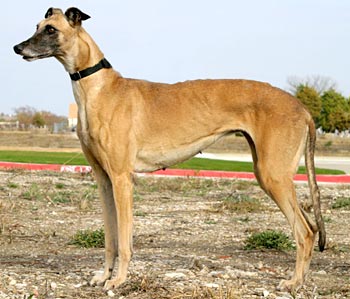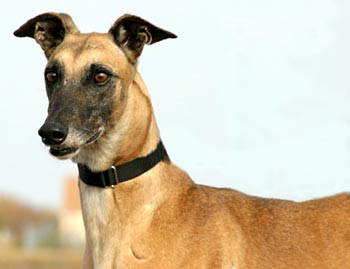 Cleo, aka I Bex Cleopatra, is a gorgeous, 11-year-old red female born December 24, 1999. Her sire is Tuffolo and her dam is I Bex Be a Bee. Cleo has no races to her record, but instead has been a brood mom with 12 offspring which she has raised in two different litters; one litter in April 2004 and the second in June 2007. Shelley and Megan are two of her offspring. You would never guess this girl is 11 years old – she still has that stunning black mask and is full of life. Cleo snapped at the cat, which made it a short introduction. She will do best in a home without cats. We will see how she does with small dogs later.
When I met Cleo she was underweight, and quite nervous when I brought her home. In no time, she was gaining weight and warming up to Rain (my other grey) and me. After a little bit of training, she and Rain are practically joined at the hip and share almost everything. After a few hiccups in the beginning – and after I learned all her "signals!" – Cleo got used to our housebreaking routine and is now very good about communicating when she needs to go out.

In the mornings, Cleo holds her favorite soft toy gently in her mouth, never squeezing it, and circles around and around at the back door. As soon as it opens, she jets out, potties and plays around, continuing to hold the toy and quietly placing it in the yard just before she comes in. At night, Cleo brings the toy in and carefully lays it down on the living room floor, and I know she is ready for bed.

Cleo displays exhilaration and happiness with a small tail wag that gradually winds up into a full-blown helicopter propeller ready for lift off. Sometimes she adds a few "chomps" – but those appear to just be reflections of her growing excitement. Around the house she likes to be the leader, but often has no idea where she is going. She will inconspicuously turn her head slightly backwards to make sure you are following!

When we go for an outing, Cleo is good on a leash and likes to walk right by my side. If she gets nervous in unfamiliar surroundings she either wraps the leash around my legs or hides her head between my legs. She is quite a "leaner", likes to give kisses, loves to be scratched behind the ears, and adores belly rubs. Napping is her favorite pastime, but chasing squirrels and birds in the back yard ranks a close second.

Cleo is good with children and gentle with babies. She likes both men and women and most other dogs. She is quiet, rarely barks and loves to follow me around the house. She likes to sleep near my bed at night and lie next to my chair to watch TV. She has never chewed the furniture or jumped on it. She doesn't counter surf or get into the trash. She can use a doggie door and stays in the house for 8-9 hours when I am gone.

Cleo is a little misunderstood because she has occasionally growled, barked, and snapped at other dogs, including greyhounds. I have exposed Cleo to several different breeds of various sizes, carefully observing her behavior. I have found that negative reactions surface only when the other dogs scare Cleo by showing too much enthusiasm or invading a little too much of her personal space. Usually, if the same dog is introduced to Cleo in a quiet, calm manner, there is no problem at all. This would have to be determined on an individual basis. She is not cat tolerant.

Cleo is just a big, silly and gentle girl who will capture your heart. I know Cleo would be a wonderful addition to any family. Just open your heart and let Cleo in!

Cleo's Foster Mom