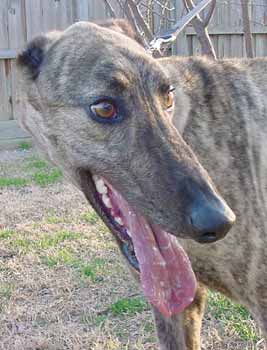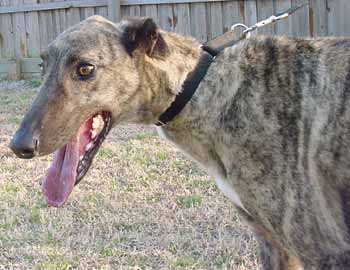 Classic, aka Classical Memory, is a 3½-year-old, born August 14, 1999, big handsome light brindle male. His color is indeed very, very unusual as he is a combination of chocolate brown and blonde! You have to see him to really appreciate his uniqueness. Classic is a grandson of HB's Commander, and his racing lineage is excellent. He is half-brother to Fleet, who shares the sire, Evening Memory.
Because a shoulder muscle was under-developed, most likely from an injury as a pup, Classic was not a candidate for the racing circut. This does not limit him from normal activities, as he runs and plays with the other greys. He is mild mannered and gentle. He does well around other greys and is cat and small animal tolerant.
Update 5/2/03
Classic broke his left front leg on Thursday, May 1, in a freak accident. He had emergency surgery on Friday, May 2, and is being cared for by foster family, Ty and Jeff. The repair was a difficult one, as there were several pieces to put together. An external fixator was placed on his leg, and now we wait for several months for it to heal. His foster mom and dad will have their hands full keeping him quiet while he recuperates.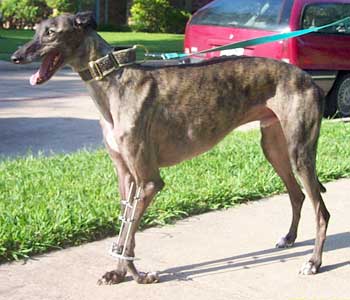 Update 7/17/03
Classic has been checked by his orthopedist and got a thumbs up on his progress! He is scheduled to go in for x-rays on August 1, which will give a birds-eye view of the healing in his leg.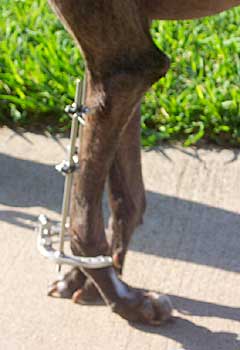 Update 8/2/03
Classic's orthopedist took x-rays and although his healing is progressing, it is doing so very slowly. From his last visit on July 17, he is putting more weight on the leg, and his foot is beginning to go forward more than back. It is estimated he will be in the external fixator for another 6 weeks. He is receiving the very best medical care from the Dallas Veterinary Surgical Center.
Update 9/9/03
Classic's leg has completely healed and his apparatus was removed. He will be on restricted activity for another 8 weeks insuring the screw holes in his bones mend and fill in.