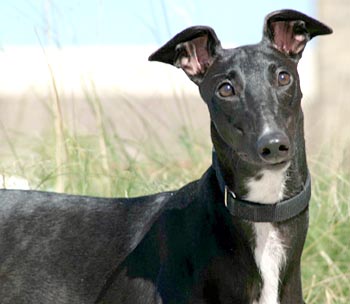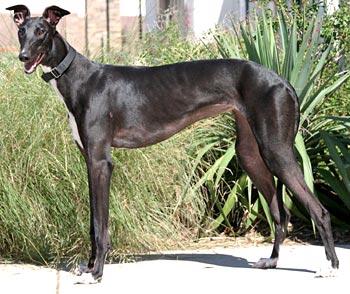 Chocolate is an almost two-year-old little black girl, born November 24, 2007. Her sire is Lonesome Cry and her dam is Blue Bayou. Chocolate was owned by a breeder, who is getting out of the business, but planned on keeping her as his personal pet until she broke her front left leg on August 11, 2008. Her story at that point in her life is quite remarkable.
Chocolate's surgery was performed by Dr. Stephen Kerpsack of Central Texas Veterinary Specialty Clinic on Friday, August 15, 2008, to repair a fracture of the left radius/ulna with a metal plate and screw. Chocolate's leg healed with no problems, and she was adopted, along with Flower Girl, shortly thereafter; however, it was not to be Chocolate's forever home. She was returned, along with Flower Girl, through absolutely no fault of her own.
Chocolate's new experience with cats: Chocolate got wind of the cats and backed off three different times. Not at all interested in cats, but toys looked inviting. Proper introduction and close supervision would be the key, though.
When you first see Chocolate, all you see is her long elegant neck and thin muzzle that has a slight bit of white painted on her nose. If you look more closely, you can almost drown in the dark brown pools that are her eyes. Such a picture of beauty and grace! She's got just a little icing of white - on her legs and toes, on her chest, and on the very tip of her tail.

Chocolate's Foster Mom