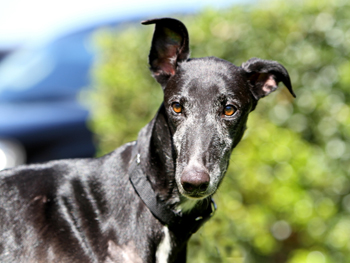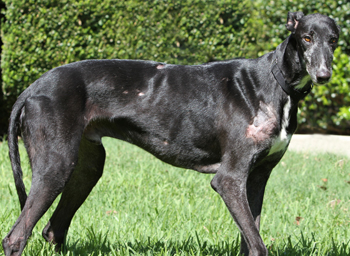 Cheech is a 7½-year-old handsome black male born March 2003. Very little is known of Cheech's background, as he arrived into GALT's family with a right shoulder injury that could not be previously diagnosed. Dr. Jeff Ellis of VCA Preston Park Animal Hospital is evaluating Cheech at this time. His x-rays have been sent to the radiologist for his evaluation. Cheech is not putting any weight at all on his right leg.
It is not know at this time if Cheech is cat or small animal tolerant.
UPDATE 10/4/10
Reports from the radiologist confirmed without a doubt that advanced osteosarcoma has invaded Cheech's right shoulder. With loving hands holding him, Cheech went quietly and peacefully to the Rainbow Bridge today at 5:30pm. Run like the wind and pain free sweet, sweet boy. You will not be forgotten.