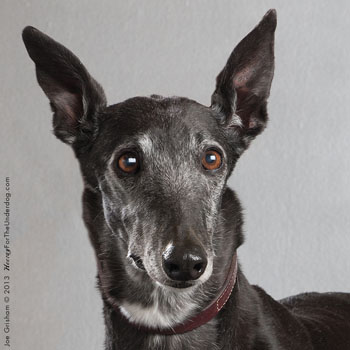 Cathy, aka Top Cat Haughty, is a 9-year-old black female born May 4, 2004. Her sire is Oshkosh Slammer, and her dam is In Good Hands. Cathy has 68 races to her credit on Greyhound-data.com. She started her career on December 28, 2005 at Derby Lane, and moved to Tampa for a brief stint before ending up at Palm Beach until June 23, 2007. Cathy went on to whelp 25 registered offspring in four litters! The first was with Dodgem By Design in August of 2008, the second with Trent Lee in April 2009, the third with Lonesome Cry in March of 2010, and the final litter with FMC's Wake Up in March 2011.
While in boarding, Cathy experienced a very high heart rate which was brought under control by medication. After being closely monitored in her foster home, and slowly taken off all of the special cardiac medications, she is now healthy and stable. Dr. Nitsche of the Animal Diagnostic Clinic is very pleased with her complete recovery. This big girl is finally ready for a life of leisurly retirement!
Cathy should not live with cats.