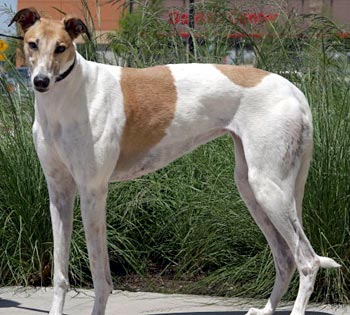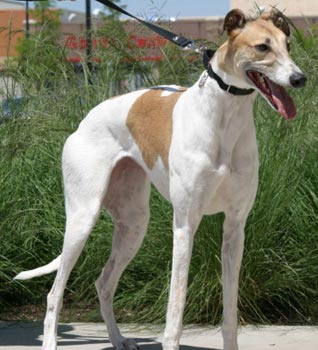 Cassandra, aka C Ya Full House, is a beautiful, red and white, 3-year-old female who was born on June 15, 2005. Her sire is Kiowa Sweet Trey and her dam is San Tan Cool One. Cassandra is one of the Greyhounds that needed placement because of the closing of the Corpus Christi track. She ran 16 races, all raced at the Corpus Christi track.
Cassandra is full of life and love! She is friendly and happy and loves people and dogs. Her tail never stops wagging, and she always has a smile to share with you. She was house trained in just two days in her foster home, and dashes up and down the stairs with no problem. She knows that the dog beds are for her to relax on, and that people are supposed to pet her.
Cassandra was adopted a few months ago, but because of changes in her owner's life, it was not her forever home. She now has a chance to find her real forever home. She will make a lovely companion for some lucky person. It is not known at this time if she is going to be okay with cats.