Seniors are the best kept secret in the Greyhound World.
Please consider giving an older greyhound a special place in your heart!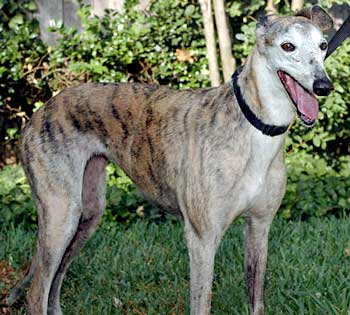 Carrie is a 10-year-old red brindle female, born March 21, 1997 to sire, Bo Rae Me and dam, P's Quicksplit. Carrie has no races to her credit on Greyhound-data.com. She originally joined the GALT family after being found as a stray with her girlfriend, Rose. Carrie was adopted and in a home with another Greyhound, Morris, but both were returned to GALT in 2005, due to unknown family circumstances.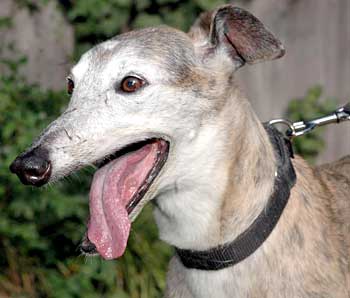 Carrie has been treated over the last couple of years for chronic ulcerative paradental stomatitis (CUPS). She was slowly losing her teeth because of ulcerated gums, so she recently gave us the ok to have the last remaining teeth extracted. Imagine having constant toothaches, and the relief she must now feel since they are gone. She will be monitored to see if any lesions continue to form on the gums, but she is feeling much better since the extractions. Yes, Carrie looks a bit like a little granny without her dentures, but she can eat her dinner just fine and is only a little messy when drinking water.
Not a bit embarrassed about her missing pearly whites, Carrie grins her big toothless grin from ear to ear and you just can't help but smile back at her. Carrie defies her age by outrunning the fellow Greyhounds who live in her foster home, and she loves to sunbathe and putter around in the back yard. Not a bit crabby like Granny Clampett, Carrie is as sweet and as fun-loving a Greyhound as you will ever meet. Carrie is not small animal or cat tolerant, but she does well with large dogs or could be an only pet.
When I brought Carrie into my home, I expected her to be a frail little old lady. Boy has she surprised me! Carrie may be a senior and missing her teeth, but this little girl is full of spunk! She is currently living with three younger male greyhounds, but she is the one who runs around to get them to play. She loves to play chase and will run laps around the back yard.

Carrie is very lovable, but she doesn't require constant attention. She is happy to find her own space for a nap or stretch out in the sunshine on the deck. Although the hounds are not allowed on the furniture at my house, it probably would not take much encouragement for her to sleep on the bed with her new family.

It's difficult to remember that Carrie doesn't have any teeth. The only issue that she has is that she can't chew hard treats. She does eat regular kibble at meal times and enjoys the softer chewy type treats. Carrie loves meal time and will bounce around until you bring the dish to her. If you are taking too long, she will bark a little encouragement to get your attention.

Carrie has impeccable house manners and doesn't need to be crated. She will let you know by whining when she needs to potty and can be left alone for several hours without a problem. She sleeps through the night on her bed in the living room.

This little girl has not had the easiest life but also has not let it get her down. She loves everyone and will soak up all of the attention she is given. All she needs is a family to call her own.

Carrie's Foster Family