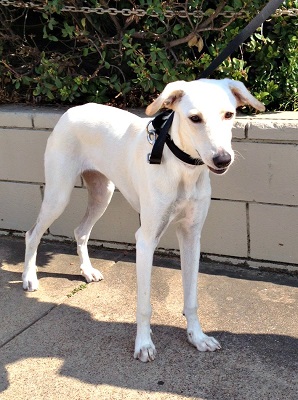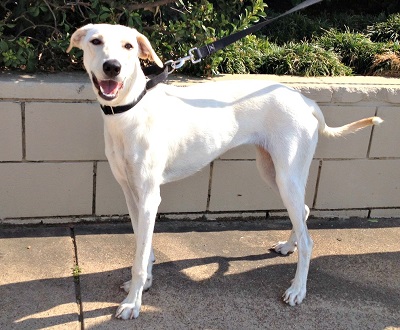 Carmen, aka Carmen Miranda, is an approximately 1-year-old light fawn female who was picked up as a stray by Fort Worth Animal Care & Control. She is not tattooed. She was released to GALT, and went straight into a foster home because of an upper respiratory infection. She will be treated and medically evaluated.
While she certainly looks like a possible greyhound mix, Carmen is actually a honorary greyhound since her DNA results came back as a Great Pyrenees, Welsh Corgi, and Dalmatian mix.
Carmen has passed an initial cat test, but needs to spend time with them in a foster home to be absolutely sure.
Do you need a laugh? Carmen will keep you giggling and enjoying life as much as she does. Carmen is the definition of an optimist. We're pretty sure that even suffering from a respiratory infection and left behind in an animal shelter, she still believed she would be rescued. And, of course, this cutie was absolutely right. Her kangaroo leaps across the yard and a thing to behold and never fail to elicit laughter from those watching her.

Carmen is young, around a year old, and petite, weighing around 50 pounds. She is also very smart, learning from her greyhound foster brother how to use the doggie door, and mastering her puppy class requirements. Despite having all that puppy energy, she'll wait patiently, watching her person, until given permission to eat. She waits to enter a door. She sits, lies down and goes to her mat. She is learning stay. She crates well and will wait patiently to be let out.

Carmen loves to chew, so providing her with various durable chew toys would make her very happy. She also loves to play with stuffies; however, she will destuff them quicker than you can get them restuffed and resewn.

Perhaps the most enduring characteristic of Carmen is her happiness. She loves to be with you, as close as possible, kissing and snuggling, and wagging her tail. That tail never stops indicating how truly happy Carmen is to be alive and healthy and ready to be your loyal companion.

Carmen's Foster Parents