Seniors are the best kept secret in the Greyhound World.
Please consider giving an older greyhound a special place in your heart!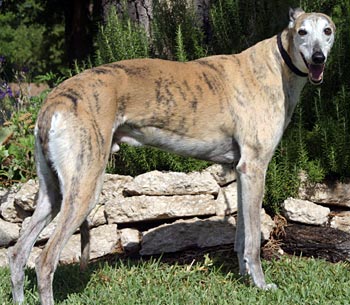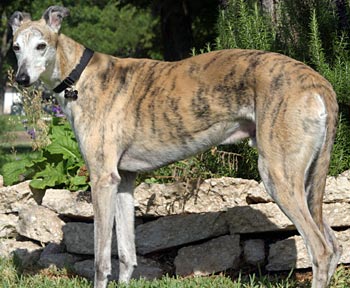 Bruce, aka Pin Oak Bruce, is a striking red brindle boy born April 10, 1999. Bruce's sire is Visa Trip and his dam in Pin Oak Abby, and he is brother to Altus. Bruce raced at Valley Race Park for 7 races during 2002 and 2003. Bruce was then adopted; however, his previous owner has surrendered him to GALT because of critical medical problems. Bruce and Tammy were together for 6 years. Bruce a little smaller in stature than the average male greyhound, with a friendly, happy personality. Bruce gets along well with other dogs, small and large. He is very mild mannered and easygoing.
Bruce is a very sweet, well-behaved hound. He's also quite playful, so don't let those 10 years fool you into thinking he's a slow old codger. Mornings are high-energy time for him as he bounds around with a soft squeaky toy. He's so happy to see the human of the house get out of bed finally. He's very happy when I return home, too. Bruce is so cute springing up into the air with all four paws off the ground!

He's also playful when he sees a cat, sometimes. He's cat trainable, and will usually ignore them, but they're still new to him. Its best not to trust him outdoors with the cat at this point, as indoor cat and outdoor cat are very different situations. He's learning not to chase them and making good progress, though. We always advise close supervision when introducing a Greyhound to a new home and its feline family members. He also gets along Greyt with the four other Greyhounds of the house.

Bruce used to sleep with his human companion, but as a foster dog, he has to be content with a doggie bed in the bedroom at night. Like most Greyhounds, he wants to be in the same room as the people. He knows how to use a doggie door now, but didn't have such access in his previous life, so he'll let you know when he needs to go out. Come meet this handsome gentleman and see if you don't just fall in love with him!

Bruce's Foster Mom