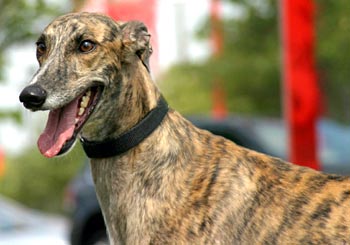 Brody is an approximately 3½-year-old, brindle, male greyhound found as a stray in the Ft. Worth area in October 2007. Brody arrived in horribly neglected condition, and his 6-month recovery has indeed been miraculous.
Brody arrived with two medical conditions that will most likely be with him the rest of his life – Ehrlichia and Pemphigus foliaceus, which will require life-long medication under the care of a veterinarian. Dr. Reid Garfield of the Animal Dermatology Referral Clinic has been caring for Brody since his diagnosis of Pemphigus foliaceus, which he describes as: "Pemphigus is an autoimmune disease where the immune system recognizes a protein in the superficial layers of the skin as 'foreign' and attacks the skin, resulting in pustules that form, rupture, and crust on multiple areas of the body. Once accurately diagnosed, the disease is usually well controlled with medications, but not cured. The majority of patients can be controlled successfully with medication and manageable side effects. Most patients will have recurrence of the disease if the medications are discontinued." Dr. Garfield is currently monitoring Brody's medication to determine the exact dosage that is best for him.
Although he received treatment, Brody's Ehrlichia titer remained the same as his previous test in December 2007, but his CBC was completely normal. Dr. Jeff Ellis of VCA Preston Park Animal Hospital submitted a PCR (Polymerase Chain Reaction) Panel to North Carolina State University College of Veterinary Medicine lab to determine if the Ehrlichia is active, and the results are negative at this time.
Thank YOU to all of you who have been in Brody's fan club, sending healing thoughts to him. It has worked! Can you believe how handsome this boy is?
Brody's cat test: Brody was interested in the cats and seemed to back off at first. But then he went after Molly full speed ahead and would not back off. So Brody is not cat trainable and should not be trusted with cats. We'll test him with small dogs if necessary.
Brody will make a great companion for someone who is willing to make the extra effort he will require, but he is worth it. Anyone who has looked at the GALT website will see the progress he has made in his health situation. But the disease he has is one that will require medication for the rest of his life and monitoring by a vet. The prednisone he is taking makes him very thirsty, and you know what happens when you drink a lot of water...

Brody is very affectionate, and likes to be around people. Being a young boy, he still likes to run and play with other dogs. He is very well mannered and responds well to commands. He is a very vocal boy and communicates by barking, whether it is hello, or I'm waiting for my walk, or I'm hungry. He is such a good eater that it makes it easy to give him his meds - he eats everything you put in front of him and looks for more.

You will quickly fall in love with Brody and find that the extra effort to keep him healthy is no extra effort at all.

Brody's Foster Mom