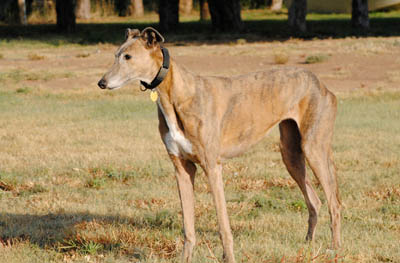 Valentine, aka PS Nodak Flair
Saying goodbye.....
I sat next to you last night trying to comfort you or were you comforting me. You had a very difficult day, the pain was evident with your every move. When you finally settled I snuggled close, rubbing your ears, stroking your face and neck, touching your soft blue brindle fur, talking softly to you about the sweet memories of the last 6 1/2 years. All luxuries you rarely granted me when you felt good. We picked you up on June 10, 2006 after I saw you on a local TV station featuring the adoptables from a shelter. You stood behind all the other dogs with your head held low, hiding as best a very long tall greyhound could. We picked you up the next day. You were only 3 1/2 years old, much too young for our senior greyhound home so we were going to contact GALT to help find your forever home. Before the hour long drive home we knew you had found your home with us. We soon learned of your "issues" but loved you thru them. The dreaded limp showed up shortly before Christmas. The osteosarcoma in your left front leg grew quickly, painfully and then the crippling pain in your rear left leg made the decision for us. You were so brave while we struggled with that decision.
We had to let you go Valentine where you will have -
No more pain.
No more fear of thunderstorms, wind, loud noises, firecrackers, vacuum cleaners, to name only a few of your fears.
No more fear of new places or situations.
No more space or sleep aggression or dogs taking too long to check IDs or people getting too close without your blessing.
No more issues with too many in your pack or too few leaving you with no hound to hunt bunnies and squirrels. Newman will miss you the most of all the hounds. He is already so confused and lost as to why you won't join him on the morning runs.
So goodbye for now sweet Valentine, Twitchy Face, Alice da Goon, Valenteenie. We love you and miss you beautiful girl.